An RV is, for many people, a fun way to take vacations and a temporary home that they can take with them on the road.
For others, their RV becomes their forever home and there's nowhere else they'd rather live, provided they can find a home base to park it permanently.
So, where can you park your RV to live? If you want to live permanently in your RV, the two best options are long-term renting or purchasing a parking lot at a campsite.
Otherwise, if you plan on moving around indefinitely, you could stay at any number of managed campgrounds or sites around the country.
When you're ready to make your temporary RV lifestyle into a permanent one, the first and most important task is finding somewhere to call home.
With our help, you'll be able to scope out the perfect spot in the best location so you can enjoy all of the benefits of RV living without ever having to go home.
Choosing the Right Location
There are no set rules when it comes to stationary RV living, which is what makes it such an enviable way of life.
Some RVers might choose to pull up somewhere permanently and never travel while others will have a home base at a certain site and go on regular trips from there, so it's up to you entirely.
These are a few popular locations in the US where people have been known to enjoy a permanent RV lifestyle:
Mendocino County, California
Greater Waco, Texas
Susquehanna River Valley, Pennsylvania
Hickory Metro, North Carolina
Muskegon County, Michigan
Elgin Area, Illinois
East Alabama, Alabama
Milledgeville, Georgia
Gainesville, Florida
Greeley and Weld County, Colorado
Bowling Green, Kentucky
How to Find the Perfect Parking Spot
There are a few things to look for when choosing a new home for your RV, and these will all have to be weighed up.
Ask yourself these questions to get a push in the right direction towards your permanent parking spot.
What amenities are a must?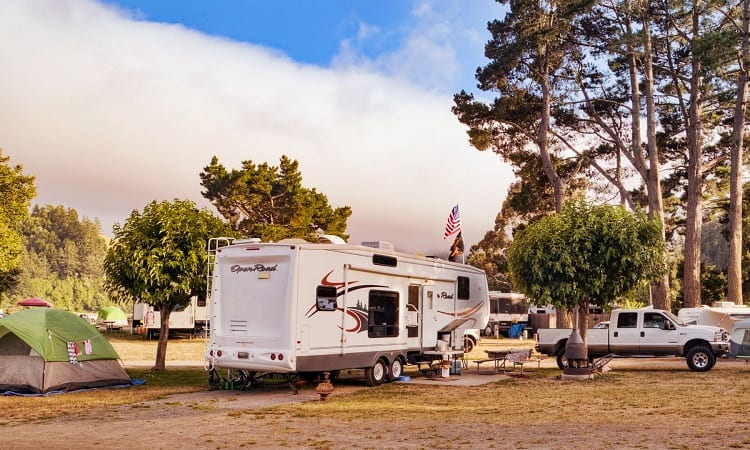 Before you can choose where you're going to live, you'll need to check out the amenities.
Consider things like mail, wireless signal, fitness center, laundry, convenience stores, and other facilities you might find important. Have a few non-negotiables and let that lead you towards something.
What's our monthly budget?
The price varies drastically from park to park so it helps to have a budget in mind first before you start looking.
Be realistic about what you can afford and make sure you've set aside money for all of the other requirements for permanent RV living.
How long do we want to stay?
You might only want to be here for a few months or it could be a permanent home for you, so think about this before you commit to something.
The longer you stay, the cheaper the rates usually are, but are you ready to commit to a permanent base?
What are the neighbors like?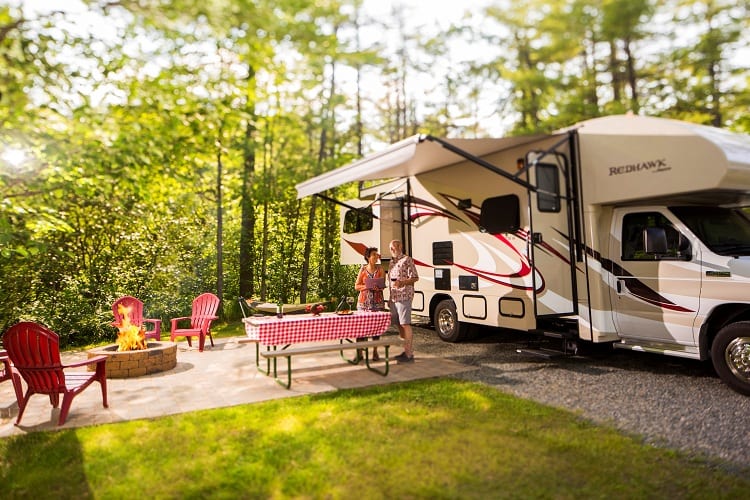 Don't just jump in without speaking to others in the park and getting a feel for what your neighbors are like.
You'll have to spend a lot of time here and be close to them so you must be a good fit for each other.
What is our camper like?
There's a good chance your current RV is suitable for temporary stays but if you're thinking of making it a home, you'll want to upgrade.
Think about how much space you'll need before committing to a long-term rental as it can be quite different when you're living in it permanently.
Renting or Purchasing – Which Is Best?
The most popular option when you decide to embark on stationary RV living is a long-term rental.
Many parks offer this if they operate as a year-long park and don't close for the winter, giving you somewhere you can call your permanent base of a few months, a full year, or even longer if possible.
The perks of renting at an RV park are having access to all of its amenities and a permanent base you can call home for a while.
There's usually a good internet signal, it's close to other facilities, and you'll be in a prime position to visit other destinations in the area that attract campers to the site.
If you don't mind living in the wilderness more, there are some National Parks and campgrounds that allow long term rentals as well.
You'll have to speak to the specific park manager and be prepared for this type of off-grid lifestyle as you won't have access to all of the luxury amenities on offer at an RV park.
However, if you think you'd prefer to purchase a parcel of land and camp your RV on it, that's possible as well, although it can be a little harder.
A quick search for RV-deeded land can show you what's available, or you may consider setting up on a block of land that you already own.
This type of setup requires more knowledge of the law though, and you might need some permits to do it legally.
The Laws and Legalities of Living in an RV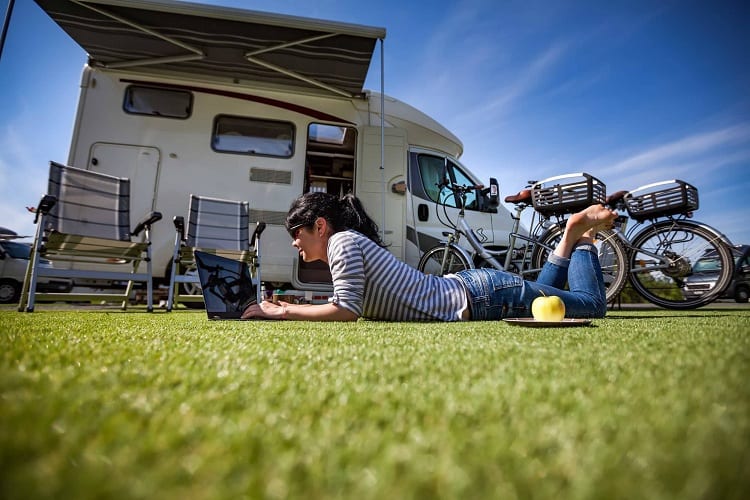 If you've decided you don't want to stay in an RV park or dedicated campsite and pay for a long term rental, you'll be looking at purchasing land.
This means you'll have to start researching the law and what's legally allowed for owners of RVs who want to set up their camper somewhere permanently.
As an RV or motorhome is not classed as a permanent dwelling, it's not as simple as pulling one up in your backyard and living there without the usual costs and fuss of a regular home.
When you use your RV normally and move around from site to site or rent from a designated camping spot, you bypass this rule, but it comes into effect as soon as you want to make a permanent home on a piece of land.
Some states in the US might allow you to live in an RV full time but you'll need a permit to do so, and the land you own must be in an allowed zone.
There are dedicated parks that sell land for this very purpose, and you might even be able to stay there for longer terms if you're not ready to buy.
There are options for buying land specifically to house an RV but it's generally easier to rent something long term.
This gives you a chance to try out the stationary lifestyle and see if it's for you, as well as settle on a location that will put you in close proximity to everything you need to live comfortably.
Living the RV Life Permanently
With stationary RV living offering so many benefits and affording freedoms like never before, it makes sense that more people are choosing to take up this lifestyle permanently.
If this sounds like your dream come true, finding the perfect parking spot to retire at with your RV is the first step to this unique way of living.
Related Questions
Living in an RV permanently is something more people are starting to do, and it all starts with finding a great spot to pull up for good.
If you've been considering this permanent nomad lifestyle and want to find out more, read on to see the answers to some commonly asked questions about it.
Can I Live in an RV and Buy Land?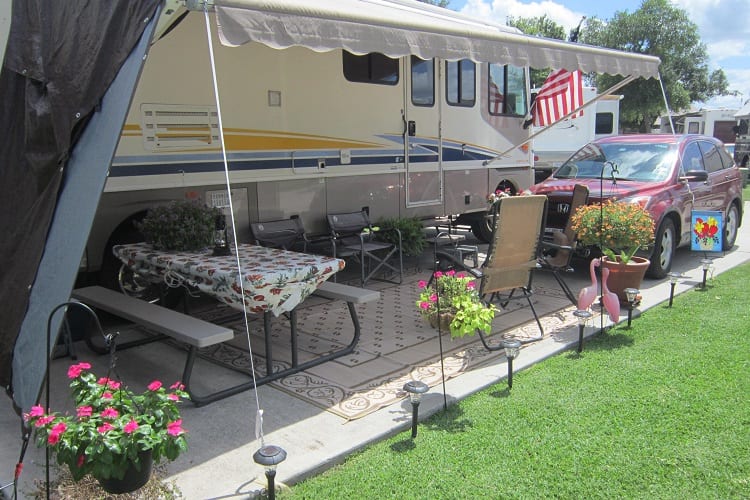 Although it might seem possible to purchase a parcel of land and camp your RV there permanently, some laws prohibit you from using these types of vehicles as a permanent home without the correct permits.
Before deciding on any type of permanent setting for your RV, it's best to research the local, state, and federal laws in place that surround them and see what that specific area of land allows.
How Much Does It Cost to Live in an RV?
There are lots of costs to consider when living in an RV including site rental, electricity, internet, food, water, and general living expenses.
However, when compared to living in a house or apartment, the monthly ongoing costs are less and some find it a more affordable way of life when done right.
What Is Stationary RV Living?
Stationary RV living is another term to describe living in your RV permanently rather than just for a short stay or vacation.
This type of living arrangement usually doesn't always mean you will live in your RV forever, but rather used to describe campers staying for long periods at a park or with permanent spaces rented at a campsite for more than a month.
Resources: