Owning an RV is like having an open ticket to travel anywhere you want in this great country, but not every destination is as amazing as the last.
When it comes to the top parks to visit, there are some known across the country as being luxurious, outstanding, and exciting, so they're an absolute must for ticking off your list.
What are the best RV park destinations in the US?
Among some of the top-rated parks for RV owners is Boyd's in Key West, Ozarks Resort on Table Rock Lake, and River's Edge at Fairbanks, with many more to consider.
Each of them offers something special in terms of scenery, amenities, and overall feel, so if you're lucky enough to be able to visit all of them, it should be done.
If you usually prefer a short stay in your RV, we have a feeling some of these parks will change your mind.
No matter your camping style or what you look for in good RV parks, there are some must-see destinations on this list that should not be missed.
If you'd like to see a graphical breakdown of the RV parks, we got you covered:
Share this Image On Your Site
The Most Popular RV Parks in the US
This country is blessed with some of the most varied and spectacular landscapes and owning an RV means you get a front-row ticket to see them all.
These are just a handful of the top-rated RV parks in the US that you should visit at least once in your life, and what makes them such a popular destination.
#1 Ozarks RV Resort on Table Rock Lake: Oak Grove, Arkansas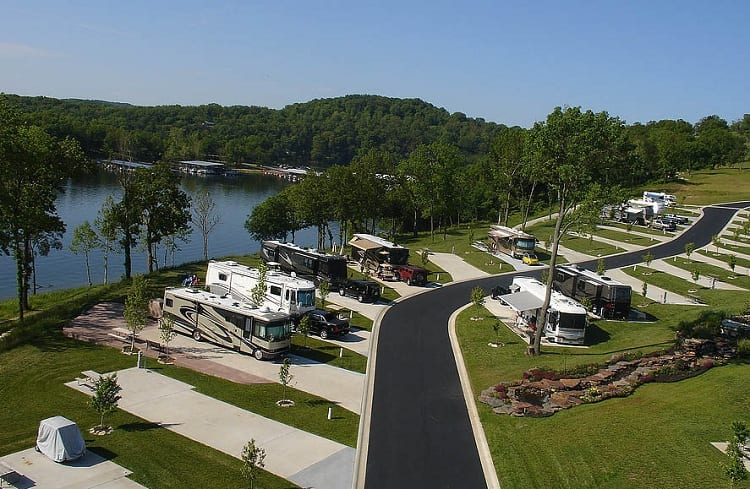 If you prefer your RV park to provide the entertainment for you, Ozarks RV Resort on Table Rock Lake is the way to go.
This luxury resort RV park is known as one of the most attractive in all of the Midwest and according to its website, there are a grand total of 418 things to do while you're there.
This park is sandwiched between the Ozark Mountains and Table Rock Lake which means whatever way you look, you're guaranteed a spectacular view.
Within the park, you'll have access to hot tubs, pools, pickleball courts, tennis courts, and even a par-3 golf course.
Nearby is the town of Branson which is popular among tourists and features everything from amusement parks to live music, so you could stay for months and never get bored.
#2 Hilton Head Motorcoach Resort: Hilton Head, South Carolina
When you want to take your RV beachside but still prefer luxury accommodation, Hilton Head is the place to be.
The Hilton Head Motorcoach Resort is in South Carolina and it's every bit as fancy as it sounds, with the beach just a short stroll away.
The resort is only for motorhomes and it's packed full of top-rate amenities like a basketball court, tennis court, fitness center, and spa, so it's easy to forget you're technically camping. You won't be able to take a travel trailer here so keep that in mind, but if you're after glamorous glamping in your RV, it's one of our most luxurious picks.
#3 Bella Terra of Gulf Shores: Foley, Alabama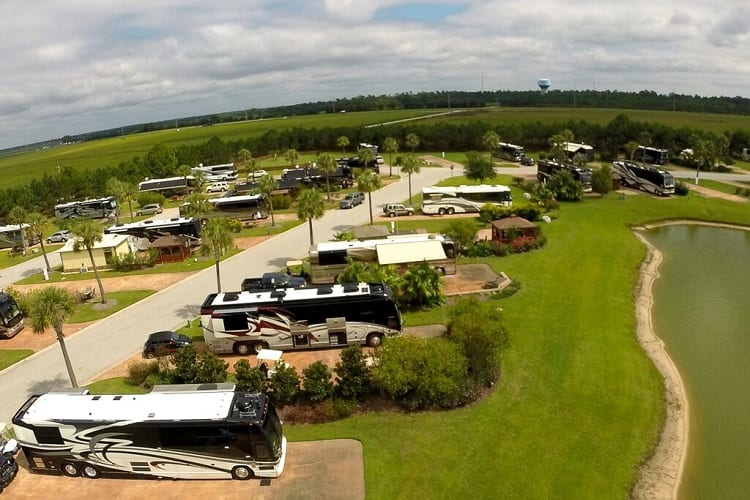 RV vacations aren't always considered luxury affairs but when you stay somewhere like the prestigious Bella Terra of Gulf Shores, they will be.
This resort is located in Foley, Alabama, on the stunning gulf coast, which means you have all of the views you could ever hope for, as well as a load of golf courses at your disposal.
Bella Terra is not just known among golfers though, as its amenities speak for themselves. Within the park, you'll find private bathhouses, hot tubs, concierge service, a movie theatre, and even an infinity-edge pool.
This park is more of a resort than a campground and if you expect nothing but the best for your RV stays, you'll love everything the Bella Terra has to offer.
#4 River's Edge RV Park: Fairbanks, Alaska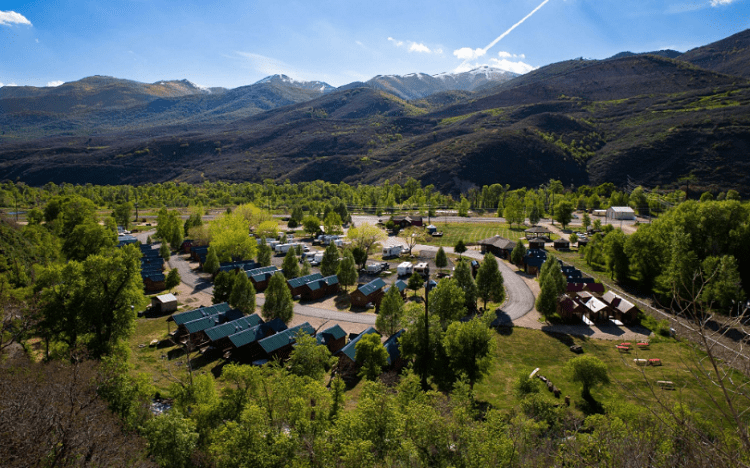 Just because an RV park is popular, doesn't mean it's going to be crowded.
The River's Edge RV Park in Fairbanks, Alaska has this going for it and although there are 167 sites in total on the grounds, everything is spread out and peaceful.
With beautiful surroundings and no shortage of hiking trails and walking tracks, the scenery is one of the best things about this destination.
In the amazing River's Edge RV park, you'll be able to dine at Chena's Alaskan Grill which is open for breakfast, lunch, and dinner, take a variety of shuttle buses to local attractions and use their full hook-ups, laundry, dog park, free-WiFi, car wash, and even a gift shop.
This is like a little holiday village located in one park, and even though there's plenty to do, it's still quiet and peaceful.
#5 Yosemite Pines RV Park: Yosemite, California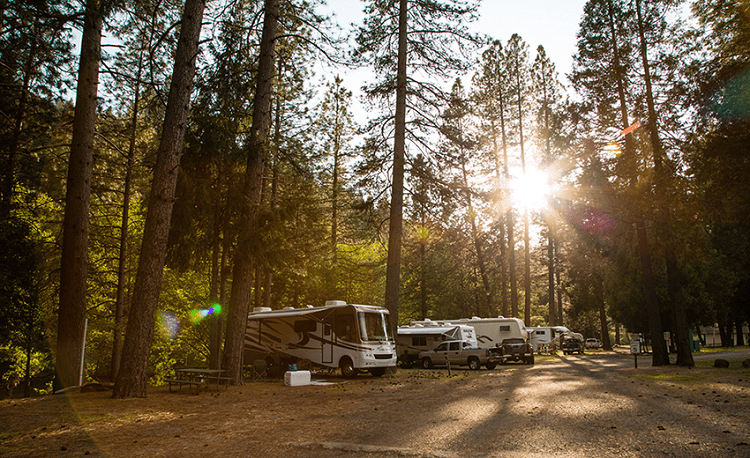 If you've already visited the RV camping inside of Yosemite National Park and found it a little lackluster, you'll appreciate the upgrade that the Yosemite Pines RV Park offers.
This Californian park is located 22 miles from the national park and has a range of premium amenities and a variety of sites that allow for pull-through and back-in parking with all kinds of views.
Yosemite Pines is a great choice for campers with kids who still like to do things a little more upscale.
There are loads of activities to choose from including an alpaca farm and regular outings to pan for gold in the rivers, so they'll never get bored.
Within the park is a pool, all of the hook-ups you could ask for, a convenience store, and a sand volleyball court, so you could be forgiven for forgetting you're staying at an RV park.
#6 Zion River Resort: Virgin, Utah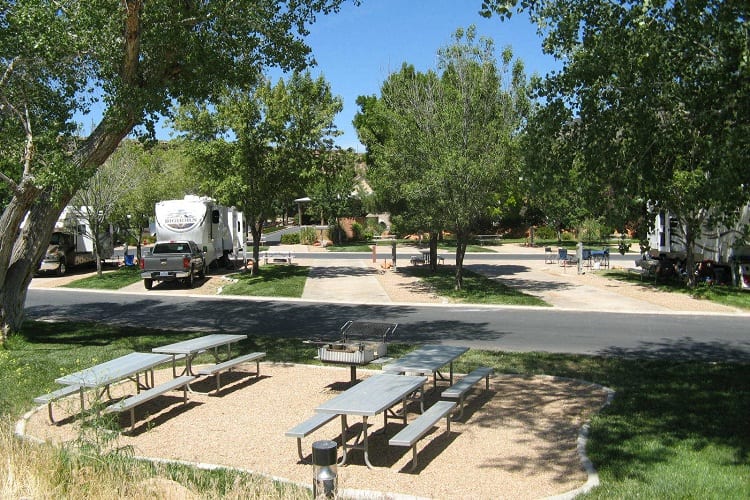 Planning a trip to Zion National Park is something many RVers have on their list, and if you want to do it in style, you can stay at the Zion River Resort RV Park.
This resort is a popular choice among permanent campers and those coming just to marvel at the scenery, with full hookups available, free Wi-Fi, and concrete parking pads for your peace of mind.
The Zion River Resort is 13 miles from the park itself and from there, you can visit a range of popular destinations like Bryce Canyon National Park and the northern rim of the Grand Canyon.
Otherwise, hang around at the resort and enjoy the clubhouse, swimming pool, and gazebo kitchen, along with monthly activities that are held for kids and adults alike.
With a bustling schedule and loads of amenities to enjoy, you'll never need to leave the park.
#7 Boyd's Key West Campground: Key West, Florida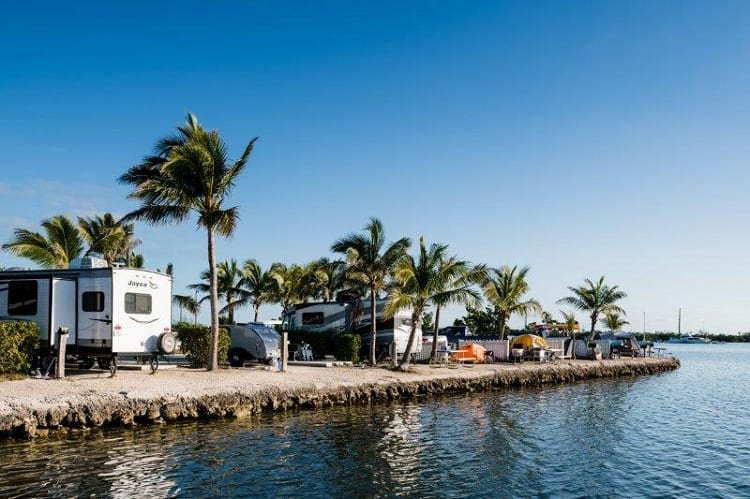 Florida is a holiday destination that many adore and when you're staying somewhere like Boyd's in Key West, you can see why.
This amazing RV park is a famous vacation spot and it has some of the most picturesque oceanfront campsites you've ever seen.
Located close to all of the fun in Key West but in your own peaceful space, it's the best way to experience what Florida has to offer.
There are loads of brag-worthy amenities at Boyd's including 250 sites to choose from, beach area, marina, pool, and free Wi-Fi, so you'll never feel like you're camping while you're here.
With access to full or partial hookups and a view of your choosing, it's a great opportunity to see Key West.
It gets a little crowded during the busy season so keep this in mind if you're hoping for a peaceful stay, and stick to the quieter months to avoid the rush.
#8 The Shady Dell RV Park: Bisbee, Arizona
To take your RV on a time-traveling adventure, there's no better place to visit than The Shady Dell in southern Arizona.
This RV park is all about that vintage flavor and if you want to step back in time and have a break from your own camper, you can even rent from one of their 13 restored antique trailers, including choices like a vintage Airstream ordecked out Tiki bus.
Within the park is the famous Dot's Diner with the classic American lunch and breakfast options that make you feel like you've time-traveled back to the 50s, and everything around the park has a retro twist.
There are all of the modern amenities you'd expect but with a kitschy feel and it's located in Bisbee, Arizona so there's a lot of beautiful landscape to admire while you're there.
#9 Flying Flags RV Park: Buellton, California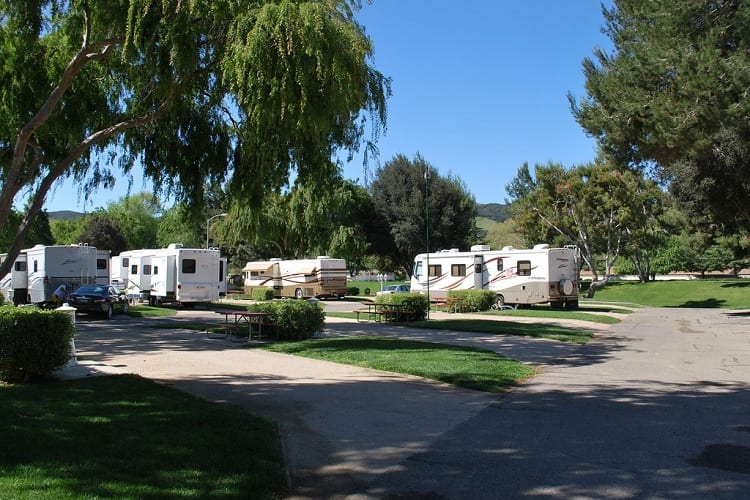 For those after more of a modern vacation, you'll want to check out the Flying Flags RV Park in Buellton, California.
As soon as you enter the park, you'll see why it's so popular, with the café, patio, and fire pit all up front and inviting you inside to start your vacation.
All of the amenities and facilities are modern and constantly upgraded, so there's nothing dated here, except for the cute vintage trailers for hire.
Within Flying Flags RV park there are spaces for your RV, as well as additional accommodation options like quaint cottages and vintage trailers and cottages.
Some of the most popular amenities include a pool with its own cabanas, modern shared bathrooms, a stage with regular concerts, and dog parks for your four-legged friend.
Not only is the park beautiful but so too are its surroundings with the Santa Ynez Valley as your backdrop making the stay even more enjoyable.
#10 Tiger Run RV Resort: Breckenridge, Colorado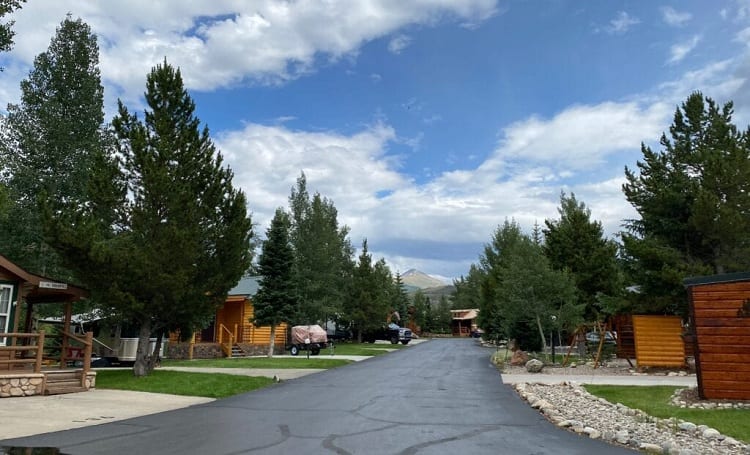 There's nothing quite like camping in the winter and if you're a snow bunny who likes to take your RV with you, the Tiger Run RV Resort in Breckenridge, Colorado should be at the top of your list.
This winter-friendly RV park is open all year round and there are lots to do no matter the season, including the trails and mountains to explore when it's warmer, and ice fishing and skiing in the winter.
Tiger Run RV Resort is located close to loads of popular tourist destinations like Keystone and Frisco, so there's a lot to do and plenty of day trips you can take to explore the area.
Within the park, you'll get access to premium amenities like a clubhouse, games room, campfire, fitness center, and two indoor spas, as well as all of the hook-ups you could hope for in your RV. If you never want to leave the grounds, you'll still never get bored.
Related Questions
Taking your RV to a popular park is the easiest way to vacation in your camper. You know already they're going to have all of the best amenities and a welcoming spirit, so the hard work is done for you.
If you're trying to plan your first RV trip and need to know more about what these parks offer, read on to see some popular FAQs answered.
What Can I Expect at an RV Park?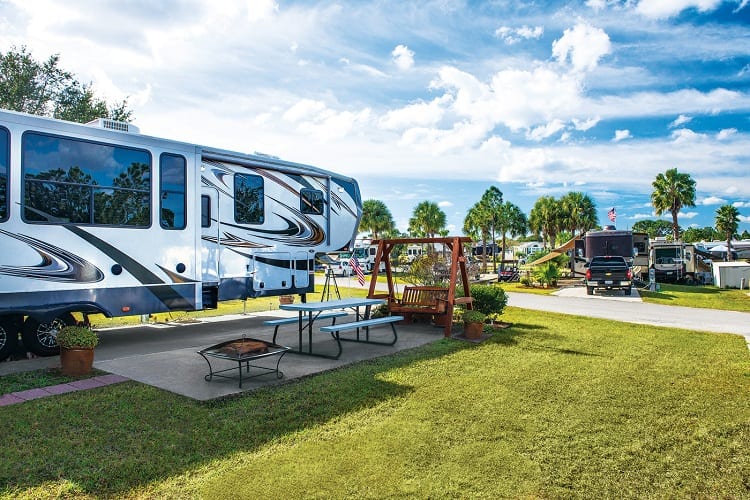 An RV park is considered to be a combination of a resort and a campsite, so they're known for being more luxurious and feature-rich than just camping.
At a minimum, a park will have access to facilities like water and electrical hook-ups, shared bathrooms, laundry, and even a pool or clubhouse in some cases.
How Much Does It Cost to Stay at an RV Park?
The cost of a site rental at an RV park depends on a few factors like the location, hook-ups provided, the season you book in, and other amenities they have available.
You can expect to pay between $30 and $100 per night for a parking spot, with some locations offering a discounted rate for weekly and monthly bookings.
Resources: