For anyone that likes to travel and explore the great outdoors, there's no better way to do it than in an RV.
These recreational vehicles combine the thrill of travel with the creature comforts of home and allow you to set off any time and anywhere in your own motorized abode.
What do you need to live the RV lifestyle?
Most RVs come equipped with the basics like lighting, heating and cooling, batteries, kitchenette, and bathroom, but depending on the rig you own, you might need to add some more features.
You'll also have to be aware of the laws surrounding RV use, what it takes to be a responsible camper, and how to keep your vehicle maintained, clean, and in good condition.
If you've always dreamed of casting off the shackles of everyday life and trading it all in to live the RV lifestyle, you're in luck.
We've covered all of the basics to give you an idea of what it's truly about and what you'll need to do right, so read on to make your RV dream a reality.
The Benefits of Owning an RV
Just ask anyone who lives the RV lifestyle, and they'll be able to rattle off a hundred reasons why they love it.
If you're interested in specifics though, these are just some of the top benefits that owning an RV can bring to your life.
Cost-efficient holidays
Once you've invested in an RV, it's time to make your money back.
Taking a holiday in your motorhome means no paying for accommodation, no hiring camping gear, and being able to cook all of your meals without relying on expensive take-out.
Comfortable travel
Spending the night in an RV is a lot more comfortable than camping, and more comfortable than many hotels.
You have your own bed, a shower, toilet, kitchen, and more, and everything is exactly the way you like it.
Easy way to explore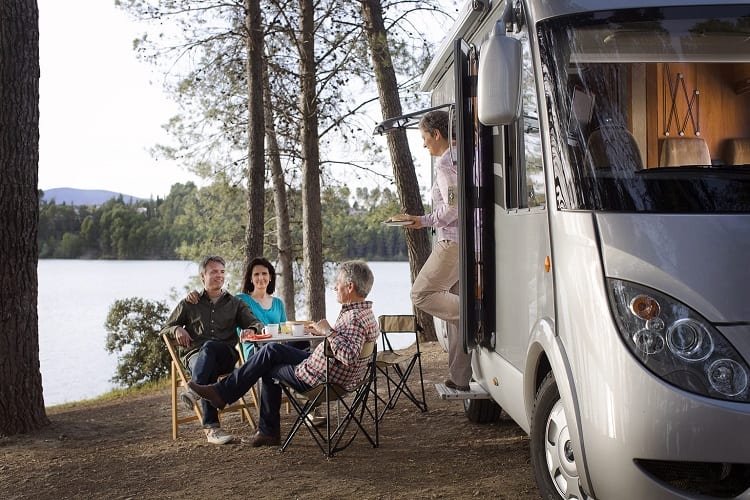 Having access to both a car and accommodation in one means you can explore just about anywhere.
With the right gear like batteries, solar setups, and generators, you can go off-grid or stick to the populated camping sites.
Hassle-free visiting
If there's a family reunion coming up or you want to surprise some loved ones during the holidays, you have the perfect vessel to do it.
You can visit friends and family at any time and have somewhere to stay so you'll be out of their hair while you do it.
Freedom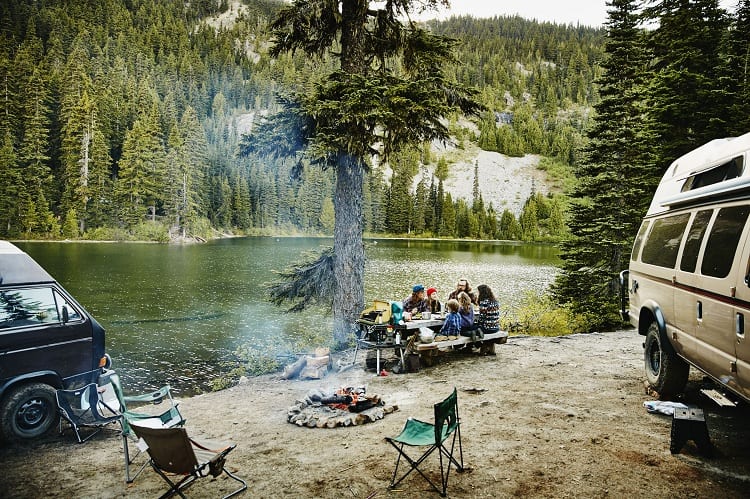 The biggest benefit of owning an RV is freedom and knowing at any moment you can get in your car and drive to just about anywhere.
There's no need to be weighed down by the costs of accommodation booking or packing up the car with all of the bits and pieces you need because it's all ready and waiting for you in your RV.
Choosing the Right RV
A quick look at RVs for sale in your area will show you just how many options are out there, and it can be an overwhelming task settling on the right one.
To make matters easier, we've got some key questions to ask that can point you in the direction of the perfect RV for your traveling group.
What type of camping do we like?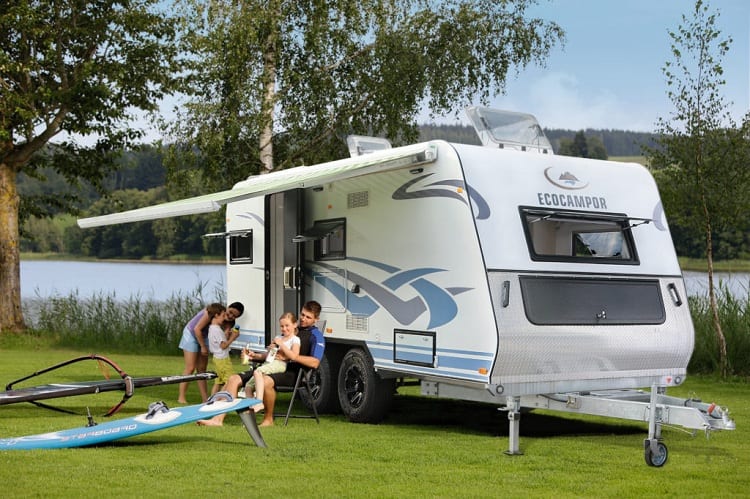 Everyone has their preferred style of camping and it's best to stick to this while you're looking for a new RV otherwise your experience won't be very enjoyable.
If you think you prefer glamping over camping and want access to all of the mod-cons and luxuries of home, you'll want something like an airstream or larger Class A motorhome.
For those who like to live in nature and rely on as little as possible, you can choose something simple like a travel trailer that you can attach to your car.
Where do we want to camp?
There are so many different types of camping including powered sites or boondocking, as well as locations like beachside, rural, or forest. Think about the locations you want to visit and make your selection from that.
If you prefer to stick to campgrounds where there are full amenities available, a larger RV may be better but you'll have to check the size restrictions that are in place.
Furthermore, some newer RVs run on a 50 Amp power system rather than 30, which might not be available. Staying in public parks also comes with restrictions and usually means your RV should be no more than 35 feet.
What's our budget?
Your budget will be a huge indicator of what type of RV you can get, and it will also determine whether you go the second-hand route or buy something brand new.
If you're shopping down the lower end of the scale, something like a trailer camper is a good idea, otherwise, you can go all the way to a class A motorhome if you have no budget to keep in check.
You'll also have to factor in costs for travel before you head off with things like food, camping fees, and vehicle maintenance all factored in.
Do we want to move around or stay somewhere?
When you envision adventures in your RV, are you parked somewhere for a few weeks at a time or do you coast from location to location and never stay long?
Those spending longer periods at one place will probably want access to things like a solar hookup as well as larger freshwater and black water tanks that will last.
If you want to move around all the time, having larger capacity holding tanks won't be as important.
How many people in our group?
Since you'll be living in this moving home, you want to make sure there's enough room to keep everyone comfortable. Choose an RV that suits the number of people in your group and make adjustments that give you even more space.
Many campers have an outdoor setup that they assemble when they arrive on-site so you're not all squished inside of the camper when you pull up somewhere.
Do I need a truck?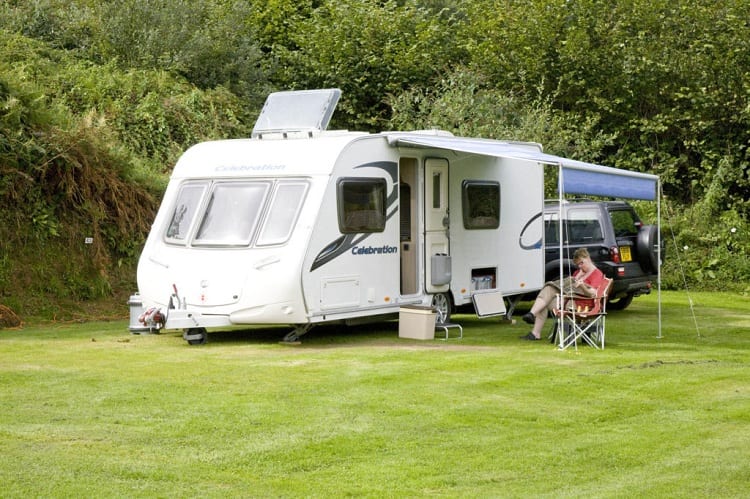 There are two options for RVs: those attached to a truck and those that have a vehicle built in.
You'll need to decide whether you want to pull along your camper with your own car or if you like the motorhome approach that has both combined.
If you do choose to pull a trailer or camper, your vehicle will need to meet the requirements to do so safely and comfortably. Assess the car you plan on taking and then let that guide you towards the right type of camper.
Which features matter most?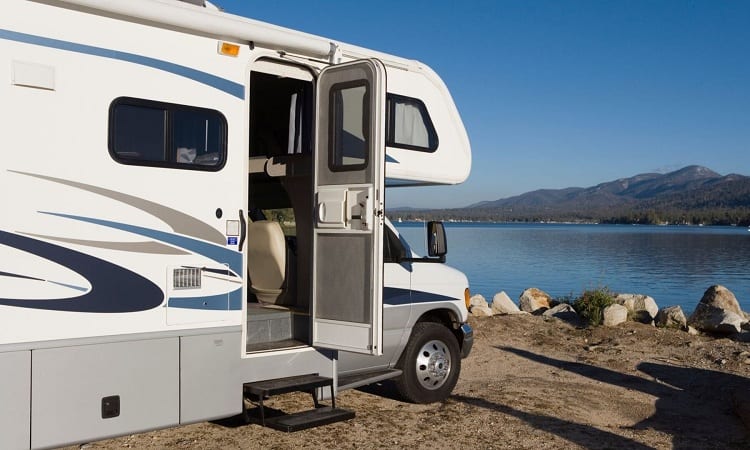 You'll rarely be able to find an RV that does it all, so you have to choose a few features that matter most and shop for those first. Some people prefer their own washer and dryer on board, and others would rather more bed space.
You might want the ability to drive anywhere or need two bathrooms in your RV. Think about your non-negotiables first and let those guide you towards the right RV.
Essential Gear to Equip Your RV
Decking out an RV with essential gear is the biggest part of the process but when it's done right, you'll never have to give it a second thought.
Some RVs come with gear already included and others require you to do it all, but these are the basics every vehicle should have to get started.
Toilet chemicals
Sewer kit (including hose)
Wheel chocks
Backup battery
Fire extinguisher
Drinking water hose
Water pressure regulator
First aid kit
Road emergency kit
Surge protector
Electrical extension cords and adapters
Jumper cables
Shovel
Once you have the basics covered, you'll need to equip your camper with other important gear and comfort items.
This includes kitchen supplies, clothing, bedding, towels, food staples, medication, toiletries, camping gear, books and magazines, electronics, and whatever else you need to make your journey more enjoyable.
Laws and Regulations Surrounding RV Use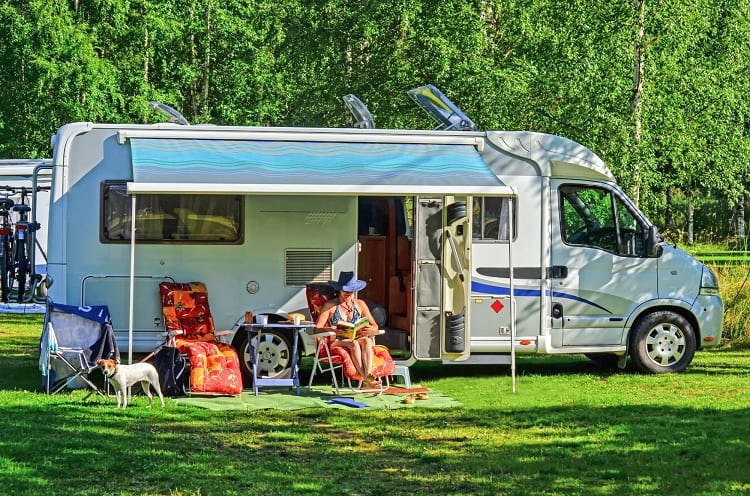 A smart RV owner is one who knows the law and it's your responsibility to be aware of the ones that govern how you use your recreational vehicle.
There are local, state, and federal laws in place that will affect your RV, and being aware of them is the onus of the RV owner.
The length of an RV is goverened by law and most states have a limit of either 40 feet or 45 feet. If you're using a separate trailer, this may be extended between 50 feet to 65 feet so make sure you check the make and model of yours.
The height of an RV is also restricted by state with a maximum of 14 feet or 13 feet six inches being common. This varies by state so you'll have to check before entering a new one.
An RV should be equipped with a breakaway switch and safety chain, and this is required by almost every state. If your RV weighs more than 3,000lbs, you'll also need separate brakes in place.
If your RV uses LP gas for any of its appliances or features like a hot water system, you won't be able to travel through some parts of certain states, especially if you're moving through a tunneled highway.
There are laws in most cities and states about where you can park an RV legally. Some states don't allow these vehicles to be parked in front of a residence where others do. Make sure you can confirm legal parking at a location before you set up camp for a night.
Boondocking and Camping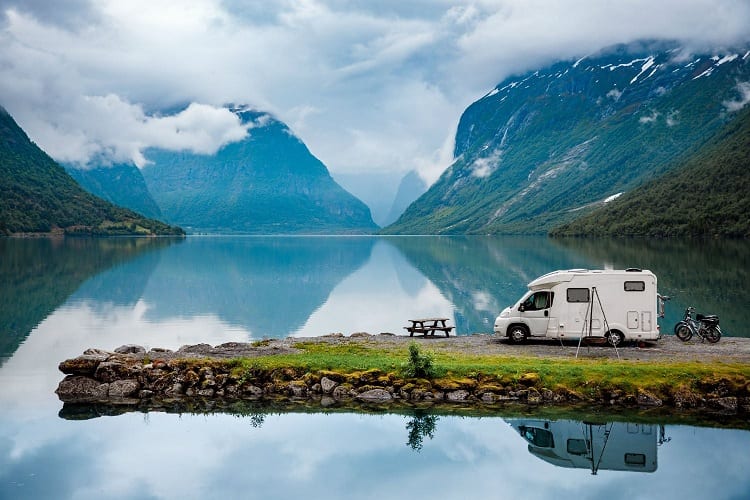 Boondocking is a popular form of camping that makes use of your RV in off-grid situations without relying on any of the usual mod-cons that come with using a campground or campsite.
At its core, it's camping without connections to things like electricity, water, and sewerage, and using just your RV instead.
Another important component of boondocking or dry camping is where you do it.
This type of camping is called 'dispersed camping' which means doing so out of a designated space or public land that is managed for this specific type of use.
Some of these spaces include land specified by the National Forest Service or the Bureau of Land Management. The key is to be far away from others and access from the regular camping hook-ups you might have.
The benefits of boondocking are that it's generally free and is a more primitive style of camping, which some people prefer.
Modern takes on this form including dry camping in developed campgrounds, parking in urban areas like parking lots of Walmart, or in the driveway or property of a friend without access to their water or electricity.
Although technically not considered boondocking, they are growing in popularity as a unique way to live off-grid in your camper.
Safety Issues to Be Aware Of
Owning an RV comes with a great deal of responsibility and it's not always the fun and freedom chasing that people assume.
When you're planning on heading off in your RV for an adventure, you'll need to think about the following safety issues to make sure you're covered.
Weight and loads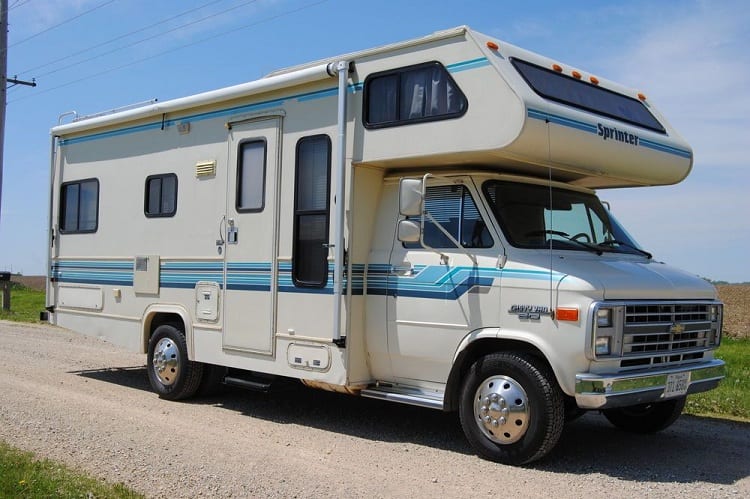 A responsible RV owner will know how much their RV weighs fully loaded and how much it should weigh.
Every RV has a gross motor vehicle weight (GMVW) and weight recommendations specifics to that make and model.
Ensuring that you never go over this limit will not only protect the vehicle from damage but keep you safe while driving.
Seatbelts
All passengers in an RV must be wearing a seatbelt and it's the responsibility of the driver to ensure this is done.
Traveling with children and infants is allowed provided they are using a car seat that meets the standards in place by the National Highway Travel Safety Administration.
Licensing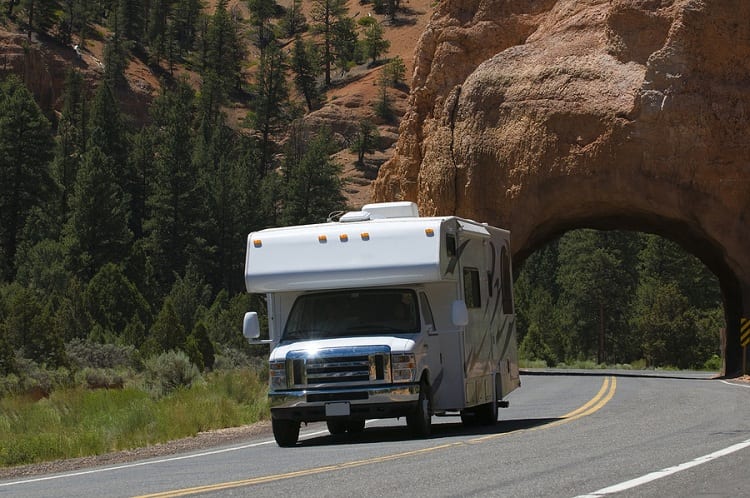 A standard driver's license is all that's needed to drive an RV in the United States and this must be up to date, and you'll want to keep this with your registration, as well as documents for reservations and other important information.
As RVs are larger than most vehicles, you should feel comfortable driving one and will need to practice doing so before you head out for the first time.
Personal safety
Keep your RV locked at all times when you're not around and when people are inside and asleep at night. Ensure all windows and doors are lockable and fitted with alarms or monitors if required.
If you're using a bathroom outside of the vehicle at night or walking around, have a flashlight and some way to communicate with those back at the RV.
Road safety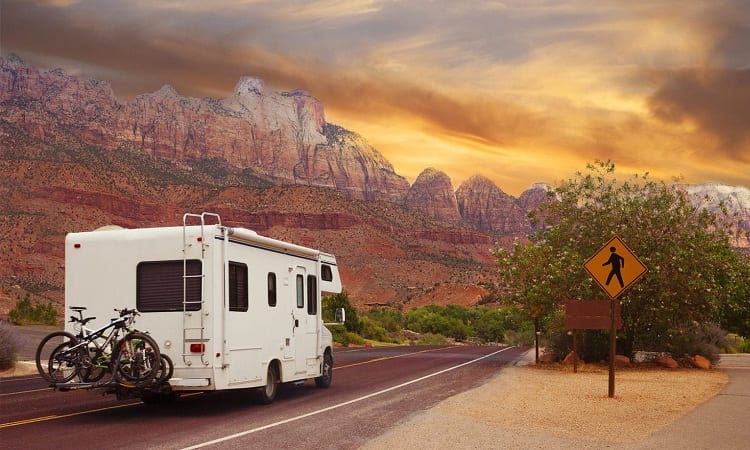 Driving an RV or a car loaded with a camper is very different than a regular vehicle and it takes practice. Things like overtaking, speed, corners, braking, and reversing all require extra care.
You'll also have to consider the height of the RV and keep this in mind when driving underneath bridges, boom gates, and even drive-thrus.
Communications
Access to a cell phone is a must-have in an RV but you'll need other things like a signal booster, satellite radio, and two-way radio to be sure.
Being able to communicate with others in your group as well as the outside world is essential if you plan to stay safe on the road.
Pets and the RV Lifestyle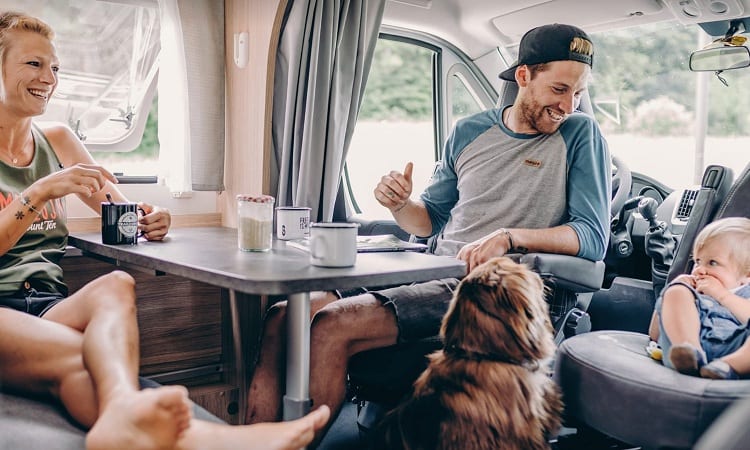 If you want to bring your beloved family pet along on your RV adventure, you need to be prepared.
Keep these tips in mind when planning for an extended stay on the road with a dog in tow to get it right.
Incorporate daily exercise into your routine with a morning and evening walk. This will prevent your dog from trying to get rid of their excess energy in the confined space of your RV.
Search ahead and book for a pet-friendly campsite or campground, as not all places are welcoming to dogs and other animals.
Make sure to always have your pet's information with you, access to a vet you can phone when needed, and have everything up to date with their registration, and a tag that shows your phone number.
Have a checklist of all of their essential gear and tick it off each time you head out. On this list should be a leash, water and food bowls, collar, toys, brush, crate, and bags to collect their waste.
Think about where your dog will sleep at night and how they'll travel on the road. A crate is the best solution to this as it gives them somewhere safe and comfortable to rest during both of these times, and ensures there'll be no accidents inside the RV for you to clean up.
Keeping Clean in the RV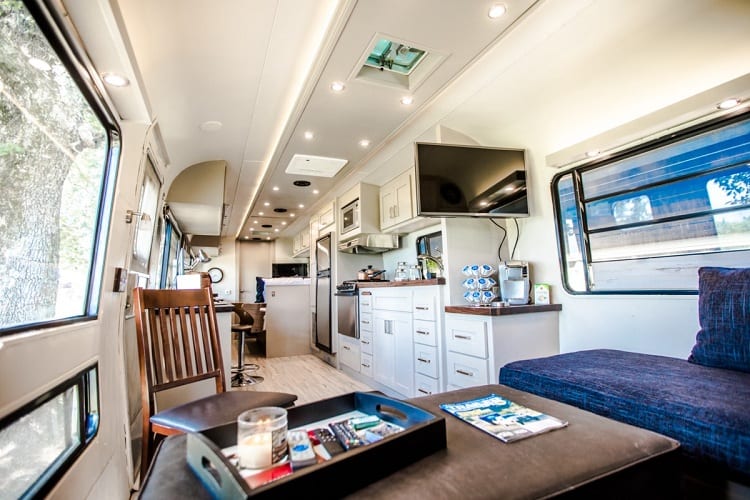 Hygiene is important no matter when you are, but when you're living the RV lifestyle, it can look a little different.
Depending on the setup of your rig, you might be able to enjoy amenities like a tankless hot water system that never runs out, whereas others will have to ration their water and become used to rinsing themselves, turning the water off to wash their bodies, and then back on again quickly to rinse the soap away.
If you prefer not to use the campgrounds or public bathrooms, you'll need an RV toilet as well. These vary in style and functionality, but will usually be connected to the black water tank of your vehicle.
You add in the right toilet chemicals and it helps to break down the waste so that it can flow through easily to your onboard sewerage system which is then emptied at a dedicated waste station as needed.
In addition to keeping yourself clean, your RV needs to be cleaned as well. The black water tank and freshwater tank should be sanitized at least twice a year and more if you use them regularly.
The rest of the vehicle can be cleaned, inside and out, just as you would while deep cleaning a house, making sure to target key areas like sinks, toilets, windows, and vents.
Living on the Road Done Right
Dreaming about living the RV lifestyle is different from doing it, and there's a lot of stuff you'll have to check off before you can embark on it.
When it's done right though, there's a wealth of possibilities at your fingertips and the freedom to go anywhere, so it's a plan worth seeing through to fruition.
Related Questions
Living in your RV might be something you've always dreamed of, but weren't sure how to make it happen for real.
If you still have doubts about this unique way of life and want to learn more, read on to see some commonly asked questions that newcomers have and our expert answers.
How Much Does an RV Cost to Own?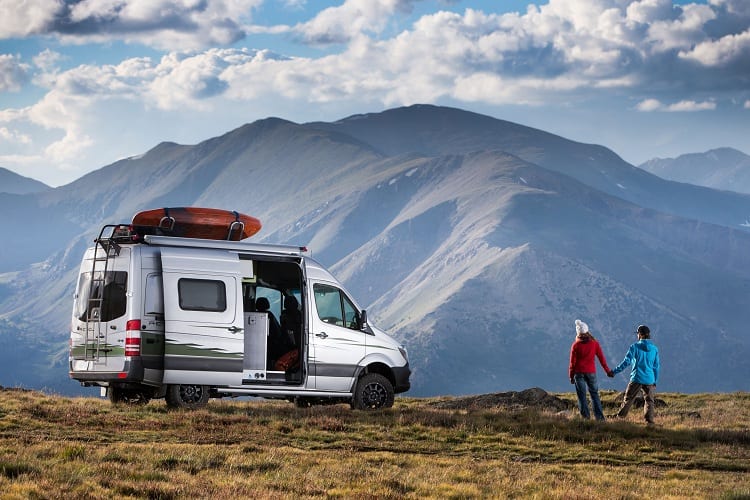 The cost of an RV can vary dramatically depending on its size, condition, and age, as well as any extra features you want to have included.
You can expect to spend a minimum of $15,000 for a good quality but basic RV camper or travel trailer and upwards of $40,000 for a fully stocked motorhome.
Which Class of RV Is Best?
There are three classes of RV: A, B, and C, with each offering something different.
Class A is the biggest with vehicles ranging from 21 feet to 45 feet, Class B at around 16 to 22 feet, and Class C from 21 to 35 feet.
Class C is the most popular among solo travelers, couples, and families of four to six but it depends on what the individual prefers.
Resources: