RV owners have no problem spending money on their pride and joy, whether it's the latest UV resistant awning or a brand, new toilet to make the trip that much more enjoyable.
When it's time to bring it home though, how and where you store can be just as deserving of these other accessories.
Do you need an RV garage? Although not a requirement, some people are lucky enough to be able to build a garage on their property to store their RV during the off-season.
Others simply park it in their driveway or store it in an off-site facility made for these types of vehicles.
An RV garage might seem like a simple solution, but they're large structures that require a lot of thoughtful planning.
If you've been dreaming of a safe haven for your RV when it's not in use, this guide to RV garages will show you what they're all about.
Do You Need an RV Garage?
If you're not lucky enough to live in your RV year-round, there'll come the inevitable time when you have to return to your regular home for a while.
With such a big rig, you need somewhere to store it when it's not in use, and there are three main options to choose from.
On your property
Whether or not you can park your RV on your property will depend on your location and what the local laws and regulations state.
In some places, it's completely fine to store your RV in the driveway during off-seasons, and in others, it's permitted. Do your research and never assume anything when it comes to your RV.
An off-site storage facility
There are large storage facilities in almost every city across the US that allows for long or short-term RV parking.
This is the most common approach for RV owners who don't have their own garage, but it can be costly.
The storage fees will depend on the size of your vehicle and can differ greatly from one place to the next, with many requiring you to pay upfront for the desired term.
RV park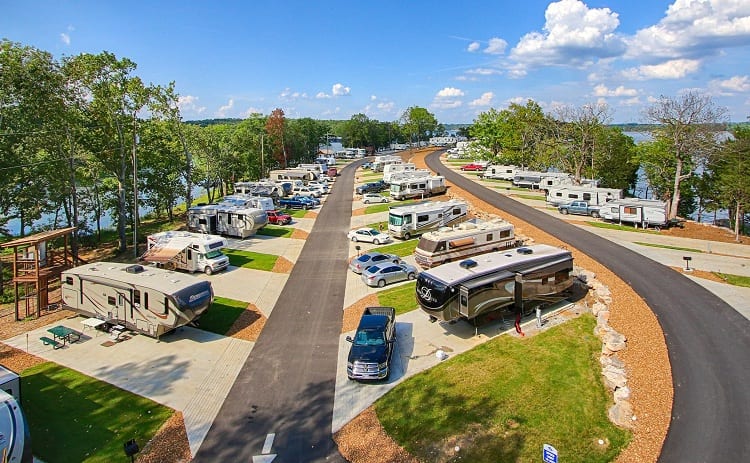 Some RV parks have storage bays for motorhomes that aren't in use, and this might even work out to be cheaper than a dedicated storage facility.
If you have an RV park near your home, speak to them about what options they have for storing your RV and see how these prices compare to an off-site facility.
RV garage
If you have the money and space, building an RV garage to store your pride and joy is the dream.
There are plans available for a DIY approach or you can hire an expert, but whatever route you go, it keeps your motorhome close by and covered, so you always know where it is.
The Best Size to Store Your Rig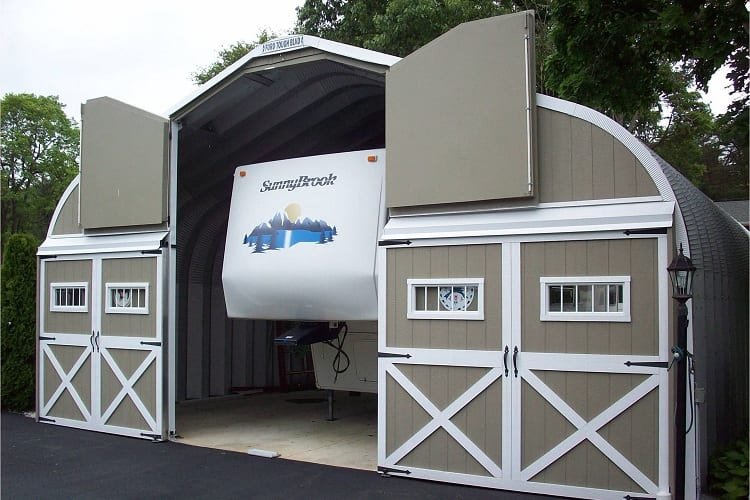 When it comes to RV storage, the age-old adage of less is more doesn't apply.
Building a garage for your motorhome means giving it ample space to rest comfortably inside and give you room to tinker with it as needed, so you'll need something much larger than the vehicle itself.
A standard RV garage should be around 12 to 15 feet tall, as this allows for not just the vehicle, but other parts like satellite receivers and air conditioners to get clearance.
You'll want to carefully measure your vehicle with all of its attachments included getting the minimum size required for a storage shed.
Once the RV is inside the garage, it doesn't end there, as you'll likely want to access it even when you're not camping.
Jobs like cleaning the exterior, repairing the awning, and changing tires can all be done inside your RV garage, but you need enough clearance on either side to make it work.
In addition to the overall garage space, you also need to pay careful attention to sizing the door.
You'll need to make it taller than the height of your RV to give enough overhead clearance, but also add at least two feet of space between the top of the garage's sectional door and the eave of the garage.
Width-wise, you want to ensure there's enough room to drive comfortably inside with at least a few feet of space on either side.
Must-Have Features for an RV Garage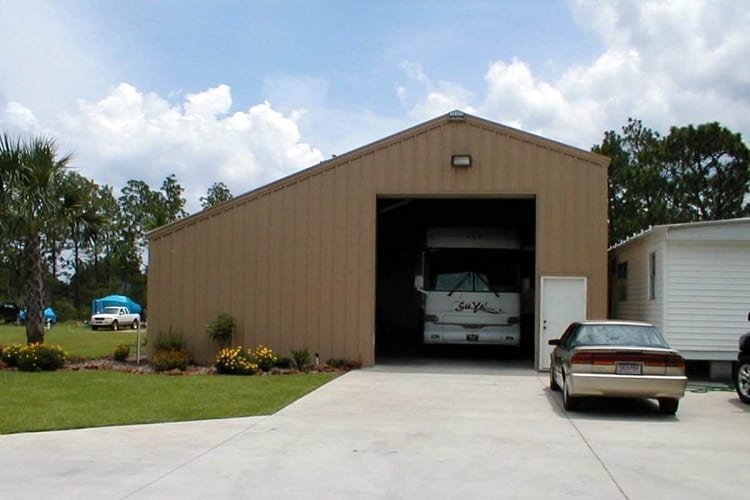 If you're lucky enough to be able to build an RV garage, you have free reign to go as big or small with the extra features.
Here are a few ideas you'll need to consider when planning your RV garage to make sure you get everything you want.
Door type: There are a few options for garage doors to consider, including the roller door, sectional, or tilt. If you'd rather have an open-air garage without a door, this is possible as well, but you may need extra provisions taken during the colder months.
Materials: Think about what materials you want to build your RV garage out of and how they can benefit the storage process. Steel is the most common material for these types of setups as it offers weather protection, durability, and a good strength to weight ratio, although it can be expensive.
Power supply: No RV garage would be complete without a power source, and you'll want a number of powerpoints included in the setup. This will allow you to work on your RV without limitations and give you constant access to electricity for whatever you need.
Workbench: A basic workbench with a few commonly used tools for RV ownership is a good place to start, and you can build on it from there. With a workbench close by and some knowledge of repairs and maintenance, your RV garage will save you a lot of money by not having to rely on a professional.
Square footage: The square footage of the garage will dictate how much else you can do in there, aside from simply storing your RV. You'll also have to determine how much space your property has spare without allowing the RV garage to take up all of your backyard.
Ventilation: Every good storage facility needs fresh air and depending on how you're going to use it, you may need more than just a few windows. Think about additional features like a vented fan, air conditioning, or a heater, so you can keep working on your RV no matter the conditions outside
Dump point: If you want to go the extra mile, you could have a skeptic tank or dumping point installed at home. This needs to be done according to local regulations so that the waste is directed to an approved residential sewer system, which means a bit of extra planning.
A Home for Your Home
Many RV owners consider their rigs a home away from home, so taking care of it during the off-season and storing it somewhere safe and sound is a no-brainer.
If you're lucky enough to have space and money to build an RV garage, it's one of the best places you can store your pride and joy to keep it close by and cared for.
Related Questions
An RV garage is a dream for many motorhome enthusiasts, but if you can't make it work, there are still other options for safekeeping of your rig.
To learn more about RV storage and the possibilities, we've answered some commonly asked questions that can point you in the right direction.
How Much Does It Cost to Store an RV?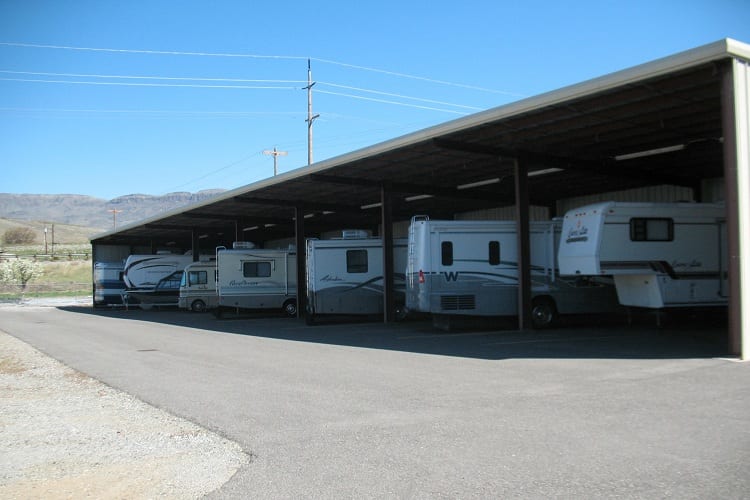 Keeping your RV at an indoor storage facility will generally cost between $130 and $180 a month, depending on a few factors.
The size of your RV, the location of the storage facility, and local competition from other storage options can all directly impact the price you'll pay per month.
When Should I Store My RV?
If you don't plan on using your RV year-round, the most popular time to store it away is during winter.
Before you park it in an RV garage though, it needs to be winterized, which is a series of tasks that have to be done to protect it against the cold conditions of the season and ensure it's in good condition when you want to get it back on the road.
Should You Store Your RV With the Slides In or Out?
Before packing up an RV in between trips or for the colder weather, make sure all of the slide-outs on the vehicle are closed.
This way, the seals will be protected so they won't face the elements, which will inevitably lead to erosion from snow and ice, moisture, and debris.
Resources: