One of the best parts of owning an RV is having the luxuries that aren't usually afforded to one when they go camping, with all of the freedoms of heading out into the wilderness for an adventure.
An RV toilet with tank is one of these luxuries and if you're in the market for one, all of the options out there can be overwhelming.
So, what do you look for in an RV toilet?
RV toilets can be as basic or advanced as you like and usually come with two separate areas for water or waste, or a connection so the waste can be sent to your black water tank.
These toils should be compact, easy to empty, use minimal water, but still be comfortable enough to sit on like a regular toilet when you're traveling on the road.
With a fully equipped toilet in your RV that ticks all of your boxes, you'll find it a lot easier and more comfortable to travel the way you want to.
We've created this simple buying guide with some of the best RV toilet reviews for you to consider, along with their best and worst features for you to weigh up and find the perfect fit for your motorhome.
Best RV Toilet – Reviews & Buying guide for 2021
Our Picks for the Best RV Toilet
Choosing the right RV toilet is no easy task with an overwhelming number of features and choices out there.
To make matters easier, we've done the searching for you and come up with a definitive list of the top-rated RV toilets on the market, with their best and worst features for your consideration.
BEST OVERALL: Alpcour Portable Toilet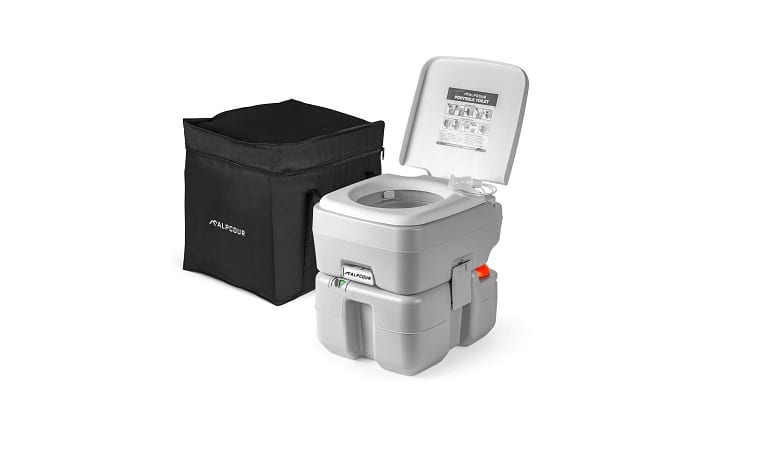 If portability and comfort are your goals for an RV toilet, something simple like the Alpcour Portable Toilet is our recommendation.
This toilet weighs just 15.5lbs, measures 17.25 x 16.55 x 14.8 inches, and comes with a 5.3-gallon waste tank and a 3.2-gallon water tank.
As a portable toilet, it fits neatly into your RV bathroom and is a simple choice for a bathroom on the go.
The best thing about the Aplcour Portable Toilet is its portability, and that also gives it some versatility. You don't only have to use it in your RV as it go anywhere, including camping trips and on boats.
Even though it's made to move it's still a great size and is comfortable for adults and kids alike to sit on.
Although not a compost toilet for RV, this is pretty easy to empty, and it requires no hookups to the sewerage systems or pipes in your motorhome.
If you'd rather not rely on something that has to be connected to the vehicle to work or don't need to empty your septic tank regularly, this portable option from Aplcour is a customer favorite.
Another huge benefit is the extras that come with this toilet, including the separate waste and water tanks, and an anti-leak drain valve so none of the unpleasant odors escape.
You'll get a sprayer to help keep the bowl clean, a waste level indicator to keep an eye on things, a carrying bag if you plan on traveling with it, and a lightweight seat that comes attached.
On the downside, some might find it's not as convenient as having something set up with your black water tank in your RV, so it depends on how you like to operate.
You can easily dump the waste at the correct places but if you'd rather pipes did the hard work for you, another type of toilet would be best.
Some customers found the seat of this toilet to be a little awkward and although it's rated for sturdiness, it can feel a bit lightweight.
If you're someone who likes to relax in the bathroom and spend some time there, you'll probably prefer a fixed toilet or one that more closely resembles your amenities at home.
The Aplcour Portable Toilet is a fully functional and compact way to use the bathroom on the go and would be a dream come true for RV owners who are looking for a low-fuss option.
Amazon has the toilet available for the best price online as well as free shipping within the US, and Alpcour covers it with a one-year limited warranty for peace of mind.
The simplicity of this beats an RV composting toilet and has so many more functions than just traveling in your motorhome.
Runner Up: Camco Portable Toilet
When you don't need much from an RV toilet except something portable and hygienic, the most budget friendly option comes from Camco.
Their portable toilet comes with a 5.3-gallon holding tank and 2.5-gallon flush tank, as well as sealing slide valve locks for peace of mind and no chance of smells escaping.
The coolest thing about this toilet is its simplicity and price, so if you'd rather not spend a lot but still want something functional, it ticks all of the boxes.
The holding tank is easily detachable and it has slide latches that keep it secured to the toilet and nothing feels lightweight or flimsy about it, which is a nice surprise for its price.
Another great point is the cap that seals down tight so there's no need to worry about it going anywhere, even while your RV is on the road.
Although it's made for RVs it's a regular height and they have smaller options if you want to save even more space, but most customers found the standard height Camco Portable Toilet to be the best fit.
Customers also loved that the Camco had a weight limit of around 330lbs which might not be expected when you're shopping this budget range of portable RV toilets.
The build is sturdy and it appears it'll last for years with the right care. The whole thing weighs just 11.5lbs when it's empty but is strong enough for most users, so you're not lugging around a lot of extra weight for nothing.
However, this isn't the most comfortable or attractive toilet out there, hence the lower price, so don't purchase it expecting to be wowed here.
Customers found it a little rigid and not ideal for spending long periods on, so keep this in mind if you're the type of person who likes to kick back with a book in the bathroom.
Another downside came from the water sprayer that Camco has included with this toilet.
Customers found it had minimal water pressure and didn't do that good of a job at cleaning the bowl, so you may want to invest in your own.
Although not a necessity for a portable toilet it can help keep it clean and avoid nasty smells, so it's probably a worthy investment.
To get your hands on the Camco Portable Toilet, head to Amazon to find this affordable option for the best online price, and benefit from their free shipping promotion as well.
Camco covers this and the rest of their portable toilet range with a 12-month limited warranty, and they also offer a 2.6-gallon size on Amazon if you only want something compact.
Whichever way you go, you'll be rewarded with a simple but functional RV toilet that can be used on any other type of adventure you want to take.
Alternative: Porta Potti 565E Curve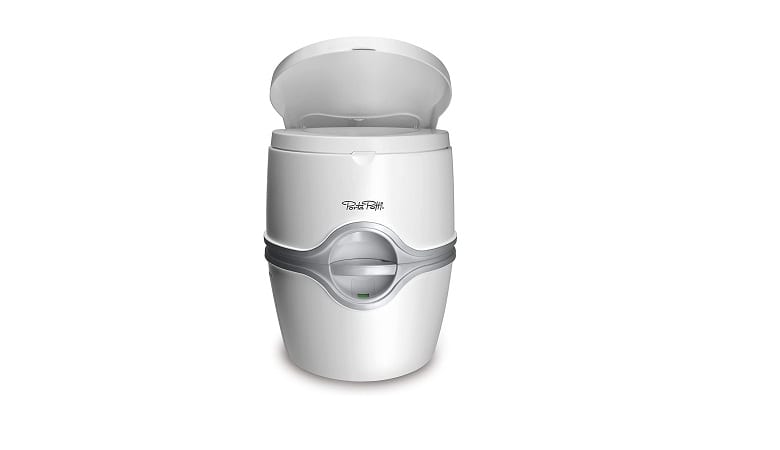 When you think of portable toilets, there's one brand name that always springs to mind: Porta Potti. With their reputation behind them, it's no wonder they've made it onto our list with their 565E portable toilet, the Curve.
This toilet has a 5.5-gallon waste tank with a 4-gallon freshwater tank, an integrated toilet roll holder, and is built to the size of a standard toilet with dimensions of 18.39 x 15.75 x 17.83 inches.
The look and feel of the Curve toilet are what sets it apart, and you could be mistaken for thinking it was a regular toilet from home.
The seat is comfortable and it doesn't feel like other portable toilets, so if replicating this feeling is important to you, you'll gladly spend a little extra for the benefits of the Porta Potti brand.
The battery-powered electric flush was another huge hit with customers, especially those who had tried to use a standard mechanical pull or step flush before.
There's no need to strain and it works just like your regular toilet at home, and when coupled with the size, you won't feel strange using it or like you have to rush just to get away from the discomfort of it all.
Customers also loved the battery-operated rinse feature that helps with cleaning, and how easy it was to empty and clean out when it's time.
If you're someone who prefers not to get their hands dirty, especially when it comes to cleaning up toilet waste, spending a little extra for the gold standard of Porta Potti will ensure you never have to.
One issue with this toilet is that it doesn't come with anything to hold it down in place, so you'll constantly be worried about it while you're driving the RV.
You can spend extra and get the Porta Potti branded kit, but it'll cost extra, and when you consider the already high price of this toilet you can see how your budget can be easily blown.
Another disadvantage to consider is the weight limit which is 265lbs. Considering the toilet itself weighs 13.45lbs without any water in the tank, this doesn't seem proportionate.
If you're over this weight limit, there are other options out there that are sturdy enough to meet your needs, and without the larger price tag that comes with the Porta Potti Curve.
Porta Potti has not disappointed with their Curve portable toilet, even if there are some downsides you'd rather not deal with at this price point.
To equip your RV with one, head to Amazon for the best price, and you'll also receive a three-year manufacturer's warranty from Thetford BV, their parent company.
Alternative: Dometic 320 Series Toilet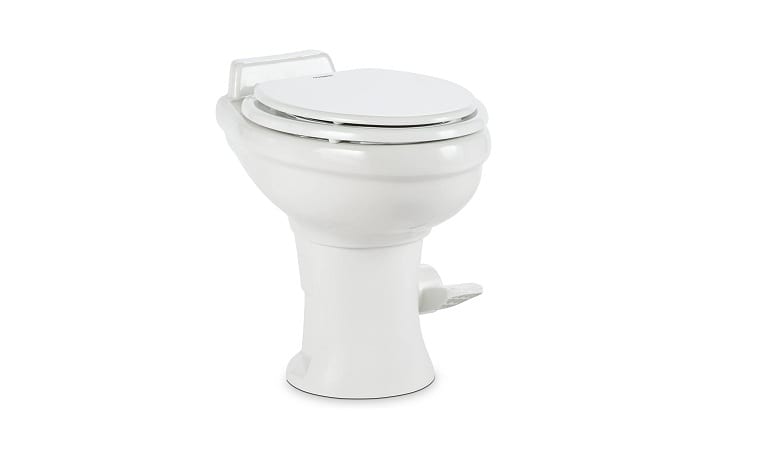 If you want the fanciest portable toilet for your RV, it has to be the Dometic 320 Series Toilet.
This portable toilet is better than the best composting toilet for RV and comes equipped with a full-sized wooden seat, curved rim, gravity flush, and efficient water supply so you'll be able to use the bathroom in comfort no matter where you are.
The Dometic 320's most notable feature is its seat, which is a full-size residential toilet size made from wood, as well as a sturdy and attractive ceramic bowl.
This adds a major comfort factor to the toilet and when you look at it compared to your one at home, you won't see a difference. If your goal for an RV toilet is to replicate this experience as closely as possible, the Dometic is the way to go.
Unlike other RV toilets, this one comes equipped with a rim design, which is a pleasant surprise. This means you'll reduce splashes and spills, and have an easier job of keeping it clean.
This small but significant feature is rarely found on portable toilets and if you're looking for the finer touches, it makes a huge difference.
When you're driving, there's no need to worry about spills either, thanks to the unique rim design.
The weight capacity of the Dometic is a whopping 400lbs which makes it the largest of any we've reviewed.
If you have bigger needs than most and have been searching for the perfect RV toilet to meet them, not many come close to what this one offers.
Even though it's large in size, it's still efficient, especially with water, and boasts just one pint used per flush for your peace of mind.
However, with that huge weight allowance comes a downside, and that's its weight. The Dometic 320 Series weighs close to 40lbs which is a bit of a burden to carry and install.
Consider also that this doesn't include any water in the tank, which won't be an issue during installation, but does add quite a bit to your load in the RV.
Some customers found that the foot pedal was a hindrance, especially for a toilet in this price range, and it would have been better with an automatic flush.
Instead, it uses a foot pedal that requires a partial press to add water and a full press to flush, so you're having to think about the right move after using the bathroom every time.
The Dometic 320 Series looks and feels like your toilet at home but requires installation and a bit of strength to carry.
You can find it on Amazon for the lowest price, as well as free shipping to your location, and a two-year limited warranty from the manufacturer, and a 10-year warranty on the ceramic bowl, so you can feel peace of mind you're buying an RV toilet that's built to last.
Alternative: Dometic 310 Series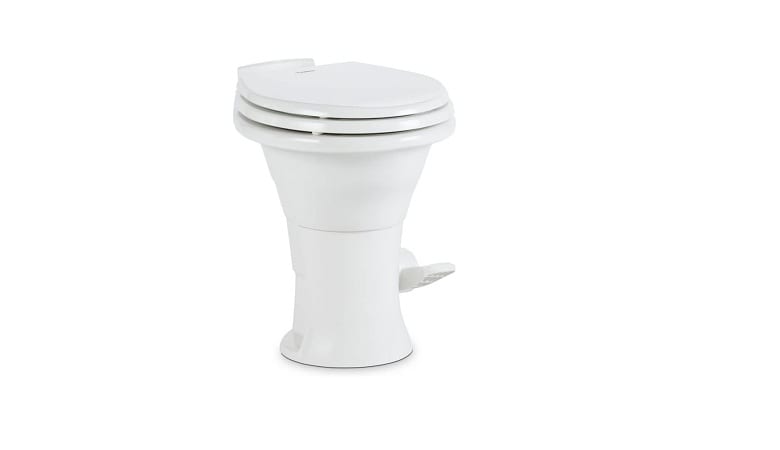 With their reputation for RV toilets, it's no surprise to find another Dometic has made our list, but this time it's the 310 Series.
This toilet is slightly smaller and weighs just 23.2lbs, but still has premium features like gravity flush and an enameled wood seat, so it feels like you're using your comfortable toilet at home.
The comfort factor of this toilet is what sets it apart, and you can see by looking at its ceramic bowl and enameled wood seat that it's well made.
If you're wanting to buy just one RV toilet for the next 10 years, you can rely on Dometic to provide it and ensure that you're sitting in comfort as well.
Another huge selling point of this toilet is the cleaning action it provides, giving it a lot more pressure than other portable RV options we've seen.
This means minimal cleaning on your part as the toilet does it for you with its 360-degree vortex flush.
The water usage is ergonomic as well and relies on just one pint per flush to do it, so if you're hoping to save water out on your travels, this should be easily achieved.
For its size, the Dometic 310 Series is an expensive option, and unlike others, it doesn't come with the spray included. This means you'll spend even more to get equip it with all of the parts it needs and add a bit more to the end total.
Unless you crave the comfort that this toilet offers, you can probably find something more affordable if practicality is all that you're after.
Another downside is the foot pedal flush that seems to hold these Dometic toilets back from being more popular.
Everything else about the toilet is premium except for this flush, and you have to do either a half or full push on the pedal to get what you need, so it's kind of annoying.
Dometic has an impressive warranty period with three years on the toilet and a massive 10 years on the ceramic bowl, so it's worth spending more on.
You can head to Amazon to get the 310 Series Toilet for the lowest price and benefit from free shipping as well, so although it's a hefty unit you won't have to pay more for its size.
RV Toilet FAQs
An RV toilet should be functional, comfortable, and specifically designed for the unique needs of these motorhomes and their owners.
If you've never shopped for one before and still have questions about what's what, we've answered some of the most popular ones so you can be sure you're choosing the right one.
Can You Put Regular Toilet In RV?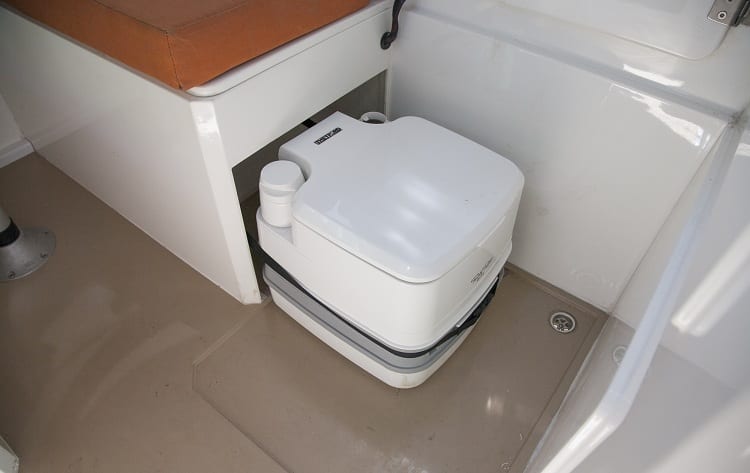 It's not recommended to put a regular house toilet into an RV, for a few reasons. Firstly, the water tank is designed to hold a lot more in a regular toilet, and the way they store and manage waste is different.
The best option is to use an RV toilet built specifically for this purpose.
Can You Poop In An RV Toilet?
Yes, you can use an RV toilet for all of your usual bathroom reasons, including poop, provided you buy the right type.
Most of these toilets either keep the waste in a separate tank and apply treatment chemicals to it or send it through a pipe to your black water tank so that it can be emptied safely and hygienically at the right time and place.
How Does The Toilet Work On An RV?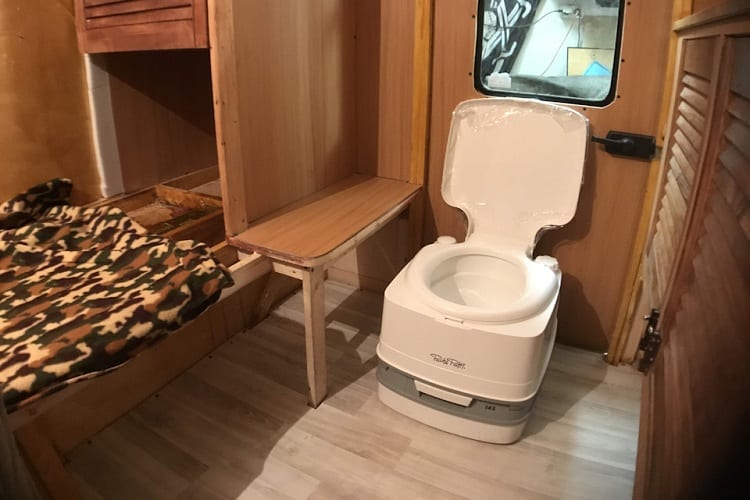 RV toilets come in many different styles but the most popular is a dual tank system that captures the waste in one and stores fresh water in the other.
The waste is sent through a pipe to the black water system which can then be emptied in the designated areas when possible.
How Much Does It Cost To Dump RV Tanks?
A full-service dump of your RV tank will cost between $10 to $25 which includes emptying the tank and rinsing it out thoroughly.
This cost varies from station to station, with some offering annual memberships for unlimited dumping as a way to save money for regular RV drivers and those who live in their motorhome.
An RV Life Necessity
Shopping for an RV toilet might not be the most exciting part of setting up your rig but it is one of the most important.
These toilets have come a long way since their predecessors and it's never been easier or more comfortable to use them, so you could be surprised at what's possible with this one simple bathroom upgrade.
Resources:
---