One of the least glamorous parts of RV ownership is emptying the black water tank, but someone has to do it.
To make matters worse, if you have a faulty or inferior sewer hose, it can be a messy job, and if you've ever heard the horror stories that some campers have about a dump station trip, you'll want to rectify that immediately.
What are the best RV sewer hose system options?
A sewer hose needs to be made of durable materials, flexible, and with enough length to reach from the RV to the waste outlet.
Additional extras like support systems may be required but it will depend on what's needed for your vehicle.
To help you source this unglamorous but essential part, we've hand-picked some of the best RV sewer hose kit options on the market today.
With this one part ready for action, you'll never have to retell a dump station horror story of your own and make a usually unpleasant job easy and mess-free.
Best RV Sewer Hose – Reviews & Buying guide for 2021
Our Recommendations for the Best RV Sewer Hose
We've searched far and wide to come up with some of the best options on the market for a sewer hose for your traveling home.
Check out our favorite five and equip yourself with one of the best rated RV sewer hose kits around to make your life easier.
BEST OVERALL: Camco RhinoFLEX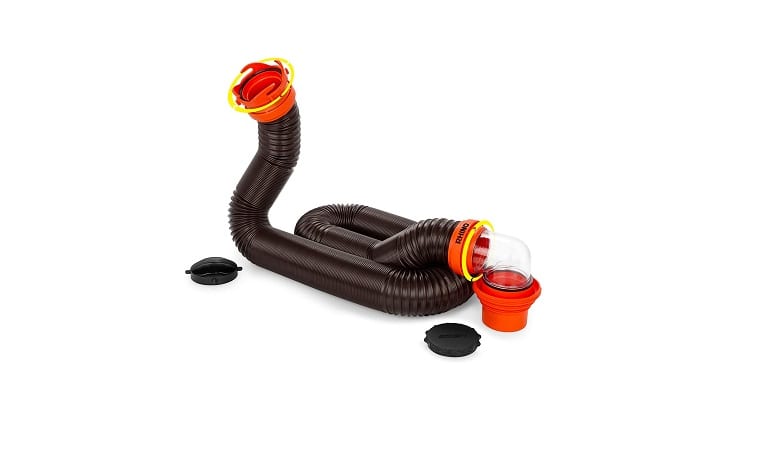 Length: 15 feet
Material: Polyolefin
Weight: 3lbs
The winner of the best sewer hose review comes from Camco with their RhinoFLEX system.
This is a complete sewer hose kit that features a 15 feet hose, bayonet adapter, two locking rings, two storage caps, and a 4-in-1 translucent elbow.
All parts in the kit are detachable and easy to use, and if you need something longer but still want a top performer, you can upgrade to the RhinoFLEX kit that features a 20-foot hose instead.
According to customers, the best thing about this hose kit was the value for money. Although it's one of the cheaper options, it's got everything you need and is well made, which is evident as soon as you inspect the parts.
The hose is made of flexible polyolefin and has been reinforced with steel wire so there's no need to worry about breaking or leaking parts.
It's separated into parts rather than being one long hose which makes it easy to handle and connect as well.
Another great benefit of the RhinoFLEX is its size, with an overall weight of just 3lbs which makes it lightweight to use, but with no shortage of quality materials or craftsmanship.
Connecting it is easy to do as well, and you get a lot of options for adjusting it to the size you need. The elbow adapter allows it to fit a range of dump station pipes so no matter where you go, you'll be covered.
On the downside, some customers mentioned having to tighten the fittings themselves as it didn't appear to be done by the manufacturer.
This wasn't true for every reviewer but something worth noting just to be sure.
You'll want to give your RhinoFLEX a thorough inspection before setting it up, otherwise deal with loose fittings while you're in the middle of a potentially messy job.
Another downside is that you might not be able to fit this hose into your onboard storage, depending on the type of RV you drive.
A few customers mentioned having to push it in quite tight to make it fit, even though it has the nice flexible accordion-style feel to it and compresses down to 56 inches in size, so don't be alarmed if it doesn't seem to fit on your first try.
There's a lot to love about this quality made kit, especially the lower price it has than others.
The CamcoRhinoFLEX is available online at Amazon for a very reasonable price and comes with free shipping and free returns, in case you're not happy with your purchase.
Rhino offers a limited one-year warranty from the manufacturer, but if reviews are anything to go by, this is the best sewer hose for RV that will last many years to come.
Runner Up: Camco Deluxe Sewer Hose Kit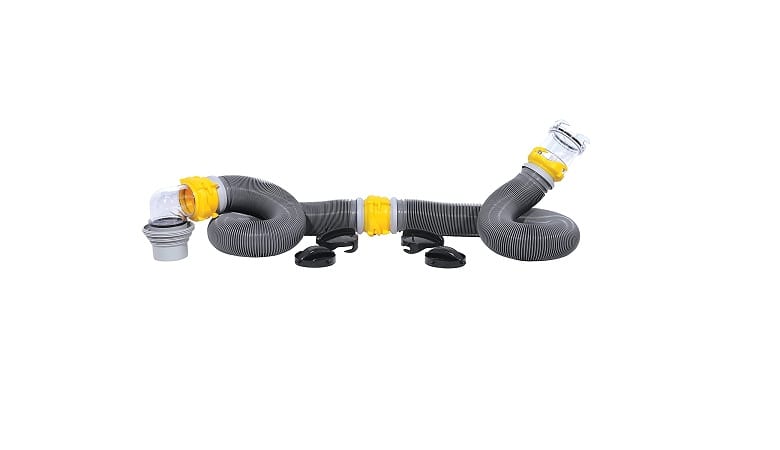 Length: 20 feet
Material: Vinyl
Weight: 5lbs
Camco has delivered another one of our favorite finds when it comes to the best RV sewer hose system with their Deluxe 20' Sewer Hose Kit.
This kit contains 20 feet of vinyl hose, relevant adapters, and a clear extender that lets you see when the tank is empty, all fitting neatly into the four-inch square bumper of your vehicle.
It's reasonably priced for a 20' hose system and comes with the option to add a wye connector for a little more or downgrade to a 10' or 5' hose instead, so there's something for every RV and owner.
The durability of the hose is what sets this one apart from the competition, and it's all thanks to the durably HTS vinyl that makes them up.
You don't have to stress about tears or breakages when you're using this, and it's the last thing you want to worry about when you're working with active waste.
Thankfully, you can feel immediately just how heavy duty the hose is and it'll put your mind at ease.
Another great feature of this sewer hose kit from Camco is how easy it all comes together which is especially helpful if you're unsure about setting your new hose up.
You'll get in the fittings included that make it easy to connect and disconnect, as well as a 4-in-1 adapter that ensures a perfect fit at every waste station outlet.
If you've ever pulled up to find your sewer hose doesn't fit, this will be a feature worth spending money on.
The description is slightly deceiving on this hose and may mean a little more work for you, so keep it in mind.
Although marketed as a 20-foot long device, it's actually two separate 10 feet hoses that can be connected with the included fittings.
A few customers didn't like this and preferred to work with one long hose, so if you're looking for a kit that fits this bill, you'll want to shop around and choose something else.
Another potential negative worth mentioning is the flexibility of the hose, which might be seen as a plus to some but became a problem for others.
Where it becomes an issue is when you're setting up the hose and it springs away from you. Unlike the other accordion-style ones, it will move away pretty quickly and get pretty far, so be prepared to chase it down before you can get it connected.
Camco knows a thing about making sewer hoses and their Deluxe 20' Kit has proven just that.
This is mid-range in price, comes with a one-year limited warranty, when you shop on Amazon you'll get the option for free returns and free shipping within the US.
This kit has everything you need and a hose with enough strength to put your mind at ease while doing this unglamorous job.
Alternative: Camco Revolution Sewer Hose Kit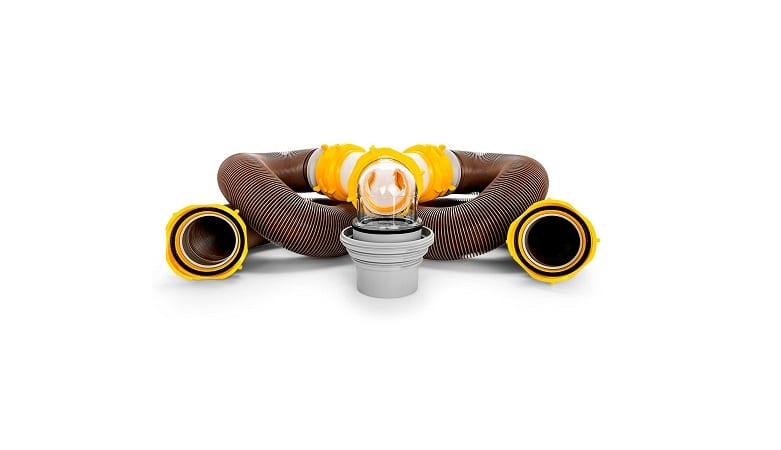 Length: 20 feet
Material: Vinyl
Weight: 6lbs
When your RV needs a little more than the regular motorhome, you'll want to upgrade to the best sewer RV hose to do the job.
The Camco 20'Revolution Sewer Hose Kit is the one for you, featuring the ability for two separate tanks to be emptied at once thanks to its special adapter, as well as a swivel clear bayonet elbow fitting and heavy-duty vinyl sewer hoses, measuring 20' in total.
The best thing about this sewer hose is its adaptability, and how it can do the job of two separate hoses in one.
Thanks to the wye fitting that's included as standard, you can connect two hoses that have lug fittings to this one device and empty two separate holding tanks in one go.
This saves time when you're at the dumping station, saves money from not having to buy another hose kit, and saves space in your RV storage compartment.
The Camco Revolution Sewer Hose Kit is known for its durability like the rest of their range, and you'll get a super tough vinyl hose that can withstand virtually anything.
The sealing caps are also heavy-duty and ensure that everything stays sealed up, leak-free, and odor-free no matter where you take your RV.
Customers found this to be a little hefty which means it'll add some weight to your overall load.
Another thing to note was its inability to fit easily into the storage compartment even though it's marketed as being compatible with a 4" square bumper system.
You'll need to remove the adapter to get it to fit and even then it takes some work to get them down to the 2' size that Camco recommends, so keep this in mind if you like to move quickly.
Another negative was fittings being loose, which meant people had to tighten them up before use.
Usually, you'd expect to find this was done for you during packaging and manufacturing but it seems to be a common issue with the Camco brand.
Be sure to check all of the relevant fittings to see everything is tight before going ahead with the job, otherwise you could have a mess on your hands.
The Camco 20' Revolution Sewer Hose Kit is a must-have for anyone with two tanks to empty, and it'll save you time and money in the process.
It's reasonably priced for everything it offers and is one of our favorite picks, so head to Amazon to get it for the best deal.
They'll ship it for free to your door, offer free returns should there be any problems, and you'll get a 12-month limited warranty from Camco, so it ticks all of the boxes for your peace of mind.
Alternative: Valterra Dominator Hose Kit
Length: 15 feet
Material: Polyolefin
Weight: 4.75lbs
The Valterra Dominator RV Sewer Hose Kit is the complete package for your RV waste needs. This kit comes with a durable polyolefin 15' hose, two drip caps, and a 90-degree adapter.
The hose itself is made with 23 mil polyolefin which gives it its strength, and it's been built to withstand extreme conditions and a lot of wear and tear, so flexibility is key with this kit.
If you've used a sewer hose that's come off halfway through the job before, you want one that will stay put without a shadow of a doubt, and you'll get that with the Valterra Dominator.
The 90-degree adapter that's included with this kit lets you choose the hose direction and means it won't fall off no matter what, even if you have to move around while the draining process is happening.
Another major selling point of this kit is the material used to make the hose that allows it to work just as well in all kinds of weather.
According to Valterra, the Dominator will remain functional and flexible even in temperatures of -20 degrees Fahrenheit so you can rest assured it'll work even in extreme conditions.
Those who like to get camping and in their RV through all seasons will find this to be a huge benefit, and you'll find that it resists kinks and breaks better than most as well.
On the downside, some customers found it hard to rinse out so they had to spend longer during the cleaning stages.
This is because of the durable nature of the hose, which is a benefit most times, but not when you're trying to clean the hose.
Keep this in mind if you're someone who prefers short and sweet during the cleaning stages, as it's not on offer with the Valterra Dominator Kit.
The hose from this kit won't fit neatly into a four-inch bumper storage compartment either, so you'll have to take off all of the other parts and attachments to make it work.
This means storing the rest of it somewhere else and possibly taking away space from another important piece of cargo you were going to take. If you want the best collapsible sewer RV hose, the Valterra Dominator isn't one of our favorites.
To get your hands on the Valterra Dominator 15' Hose Kit, head to Amazon for the best price and benefit from their free shipping and returns.
However, there's no official word from Valterra about a warranty which is disappointing and understandably makes people uncomfortable when buying parts for their RV.
If the happy customers are anything to go by though, this is a sewer hose kit you can rely on to get the job done for a long time to come.
Alternative: Titan Premium Sewer Hose Kit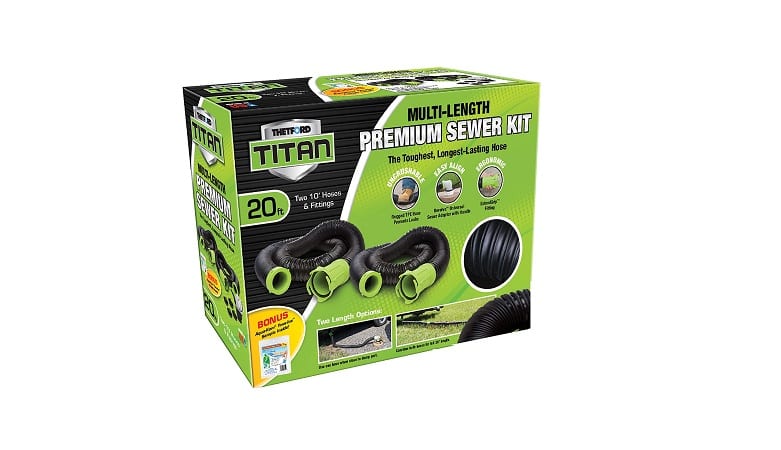 Length: 20 feet
Material: Thermal plastic elastomer
Weight: 6.24lbs
The Titan Premium Sewer Hose Kit is one of our favorite finds on the market if you're after the complete setup.
This kit features 20 feet of thermal plastic elastomer hose that connects with two 10 feet parts, and you can use the adapters to connect as many together as need.
You'll also get a 5-in-1 sewer adapter that helps it fit anywhere and an extended grip universal bayonet mount.
This is a pretty heavy option weighing around 6.24lbs for the entire kit, but it's thanks to the durability of the hose.
The thermal plastic elastomer is a unique type of material when compared to other products we've reviewed but it prevents tears, breaks, and damage which can all be easy enough to do when you're camping in an RV.
It prevents punctures and corrosion and is tough enough to work in all weather conditions.
Another great benefit of this sewer hose kit is its ease of use thanks to the minima working parts, fittings, and included instructions.
If you've never taken an RV out before and are feeling apprehensive about this task, you don't need to worry when you've got the Titan Premium Sewer Hose Kit at the ready.
The thermal plastic elastomer used to make this hose is impressive in strength but it's not the easiest to maneuver. Reviewers found it was awkward and didn't have the same level of flexibility as others.
Considering you want to be able to work easily with a sewer hose and move it when needed, this could be a major turnoff from Titan.
Although Titan has marketed this as being durable and even capable of being stood on, which you can do, it doesn't seem to retain its shape afterward.
Some people noted that they had to work hard to get it to coil back together which meant storage was a challenge once the job was done.
If you can avoid it, try not to trample or squash your Titan hose otherwise even if you just want to test it out, otherwise, you'll find it almost possible to get it back to its original shape.
The Titan Premium Sewer Hose Kit is a straightforward way to empty your RV's waste and a good choice for beginners.
With everything you need to get started, you can find it for the best price online at Amazon, along with free shipping and free returns.
Titan doesn't seem to offer a warranty on this product but they do on others, so this is slightly disappointing if you're after peace of mind when investing in a new RV part.
RV Sewer Hose FAQs
A sewer hose is a crucial part of any RV, and choosing the right one can mean the difference between an easy and an awful job.
If you want to learn more about the importance of these hoses and kits, read on to see some of the commonly asked questions and our expert answers.
What Length RV Sewer Hose Should I Get?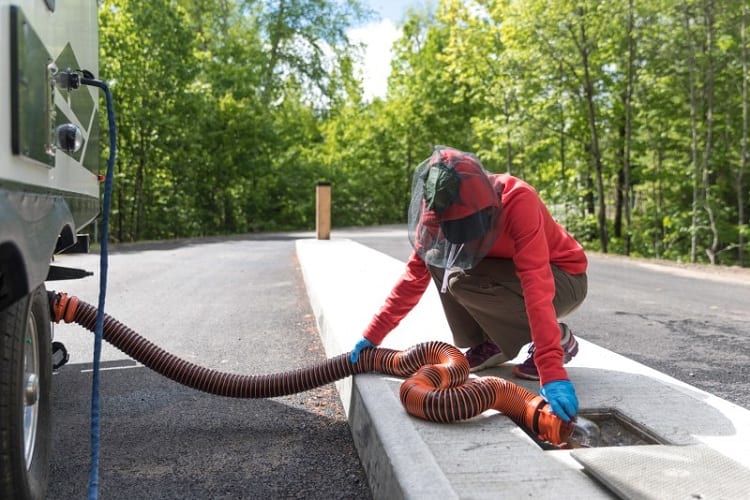 The best length of an RV sewer hose is between 15 to 20 feet, and most come in this size already.
This will ensure you can attach the hose from the septic tank of your RV to the waste outlet at the dump station so you need ample length to do this.
Where Should RV Sewer Hoses Be Stored?
Most RVs will have a dedicated storage space for the sewer hose to be kept, and this will differ depending on the build of your vehicle.
In most standard vehicles, the storage space will be near the rear bumper, and this should be enough to hold an extension hose if you like to keep one on hand.
Do You Need AN RV Sewer Hose Support?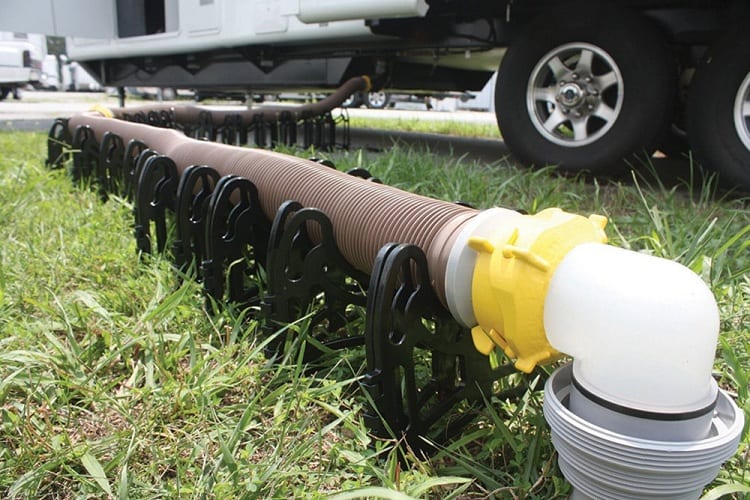 A sewer hose support is an additional part that can help the waste move easier through the hose itself so that it doesn't back up, and it uses gravity to do the job.
You can also use these support systems to keep the hose off the ground so that it's not damaged by sitting in the grass.
How Do I Clean My RV Sewer Hose?
To clean an RV sewer hose, you'll need to remove the hose and all of the fittings from it and then spray all of the parts down separately.
The fittings can soak for a few hours inside of a large bucket filled with a bleach and water solution, and then be dried off before assembling back together.
Waste Tank Emptying Made Easy
Without a properly working sewer hose, you'll find it hard to empty your waste tank effortlessly and safely, so it's a part you can't be without.
This part is essential for keeping clean and hygienic in your RV, and any of our top picks will make this job easy to do, so invest in one today.
Resources:
---