An RV is a serious investment, but it's also a home, so we have to do whatever we can to keep it in shape.
The roof is one of the most exposed areas of these vehicles and considering how much time they spend out in the sun and extreme weather, they need an extra layer of protection up top every now and then.
So, what is the best RV roof coating to use? The two main types of roof coating used for RVs are made with rubber and fiberglass.
They're applied as a liquid and then need time to set, eventually acting as a barrier against UV rays, moisture, and other external elements that affect the roof.
Some also have sealant properties that can cover up cracks and damage, which prevents further issues with the RV.
If you need the best roof coating for RVs, we're here to help and have assembled a list of some of the top performers.
With our advice and RV roof coating reviews, you'll know exactly which one to choose to repair your roof and keep it protected from all of the usual wear and tear that it goes through.
Best RV Roof Coating – Reviews & Buying guide for 2021
Our Expert Picks for the Best RV Roof Coating
The right roof coating for RV applications will look different for every vehicle but there are some options out there that deliver better than others.
These are our recommendations for the best of the best so you only have the most favored products to guarantee a professional result.
BEST OVERALL: Dicor EPDM Rubber Coating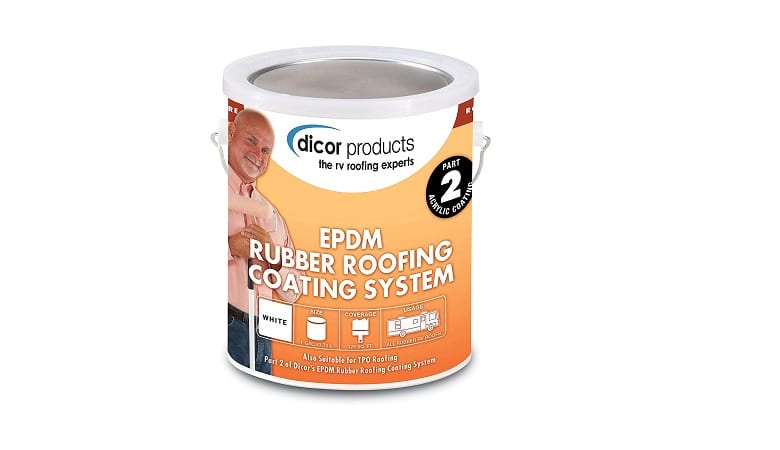 Material: Rubber
Size: 1 gallon
The best RV rubber roof coating on the market today comes from Dicor with their white EPDM rubber coating.
This coating comes in a one-gallon container designed to cover 125 square feet of rooftop and can be applied by anyone. It works with all rubber RV roofs as well as TPO roofs and has a specific gravity rating of 1.4.
This has become a favorite among RV owners because it's the best coating for RV roof tops for more than one reason.
Not only does it protect against UV rays, but it also prevents moisture build-up, will stop that annoying roof rumble, and save you thousands of dollars from having to get your roof professionally coated for many years to come.
If you want an all-in-one product, this liquid roof RV roof coating is the way to go.
Another bonus is the flexibility of the liquid coating once it sets, and it means fewer cracks in the future.
If you've tried these coatings and sealants before to find they only start to show signs of wear in a few months, this will be a major selling point for you.
Dicor is regarded for the quality of their products and it's evident as soon as you're done applying this to the roof of your RV.
One gallon will cover around 30 feet according to customers, even though Dicor says it's a whole lot more.
You'll need to so make sure you do your calculations before you begin the job and order enough to cover.
Most people recommend watching the videos provided by Dicor to make sure you're applying the liquid roof RV coating correctly, otherwise, you'll run into the same problems that others had.
Another slight issue is that you have to keep mixing this coating otherwise it'll mess up the entire application. It requires a little more effort than others we've reviewed but the results are worth it if you do it right.
There were a few commenters from customers who thought Dicor's product was thin but as long as you're mixing it constantly, you'll achieve the thickness that makes it the most popular choice.
To get your hands on Dicor's EPDM Rubber Coating, head to Amazon to find the lowest price online.
When you shop on Amazon you'll also benefit from free shipping on an unlimited number of containers and free returns, in case it isn't everything you hoped it would be.
Keep in mind, you'll need at least two gallons to cover an RV roof depending on size, but the end result is worth every penny.
Runner Up: Heng's Rubber Roof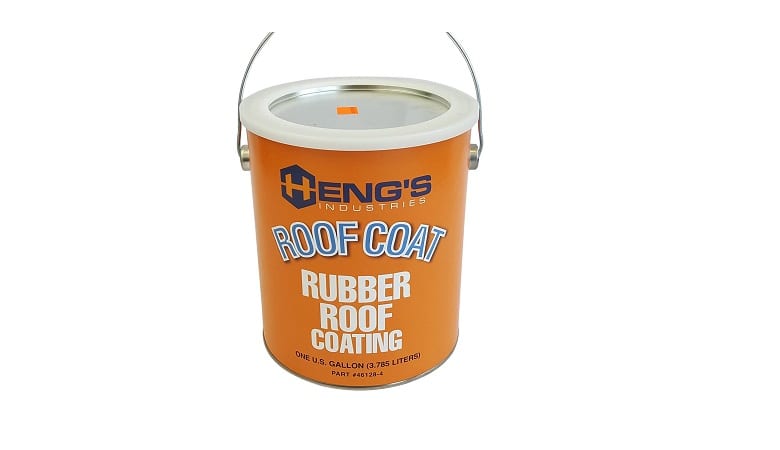 Material: Rubber
Size: 1 gallon
If you're hoping to coat more than just your RV's roof, look no further than Heng's with their Rubber Roof product.
This comes in a one-gallon sealed bucket and is made with 100% acrylic latex polymer which makes it the perfect choice for EPDM roofs.
One gallon of the rubber liquid will cover around 30 feet of roof and it's a job you can DIY easily whenever you have the time.
The best thing about this product is that it's multi-talented and can be applied to so many more areas than just your RV roof.
Unlike a rubber roof coating for RV, it also works on sealing vents, covering up tears, and even coating around the seams of air conditioning units in your vehicle.
If you like having one simple solution to do it all, Heng's is the way to go, and it's non-toxic and non-polluting for your peace of mind.
Another bonus of this roof coating is how well it works with the heat, and if you like to take your RV out in the middle of summer or live somewhere hot, you'll appreciate this.
The rubber coating expands and contracts as your roof does, and it's UV resistant as well. No matter how long you park your vehicle in the sun or how poorly it's covered, you can rely on this coating to do a serious job of protecting it.
However, there were some downsides and ones that could ultimately cost you a bit of money.
Some users noted that Heng's wasn't the best rubber roof coating for RV tops if you prefer a thicker product, and said the consistency was quite thin.
This means you have to apply more than the recommended amount to get coverage, so the price will increase a little, and so will the work that you have to do.
Another negative is that it only works with EPDM roofs, which doesn't work for people needing to cover their TPO roofing.
You'll also need to wait some time in between coats, even though Heng's recommends around an hour and a half.
Customers found this wasn't sufficient and preferred to leave it a few hours more otherwise the end result was streaky and not as thick.
Amazon has a great deal on this roof coating if you want to buy in bulk and you can save a huge amount by getting six buckets instead of one.
They also offer free shipping on the coating and free returns, just in case there are any issues. Heng's Rubber Roof Coating is a comprehensive way to apply liquid roof RV coating and one to look out for.
Alternative: Rubberseal Liquid Rubber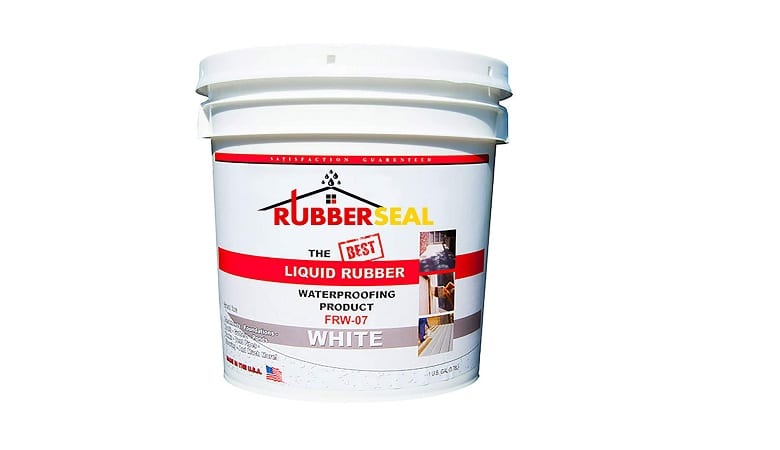 Material: Rubber
Size: 1 gallon
Rubberseal has created another of our favorite finds with their Liquid Rubber.
Coming in a one-gallon plastic bucket and covering 60 square feet of roof, it's a waterproofing and coating product, and comes in standard white to suit more vehicles.
Liquid Rubber can resist a wide range of temperatures, prevents mold and mildew, and helps to retain the color of your roof, so it's more than just a UV protectant.
If you're looking for a safer product to use, Rubberseal ticks all of the boxes and is one of the more earth-friendly options.
According to reviews, there was a lot to feel good about here, including its EPA energy star rating and low VOC which means it lets off fewer toxic chemicals.
If you travel with children or the elderly, or just like to choose products that aren't going to do too much harm to you and the plant, this one can deliver.
As far as size, Rubberseal beats the competition which helps to lower its price as well. They recommend using one gallon for every 60 square feet of rooftop which is about twice as good as the competition.
Albeit, some people did have to apply extra to make sure it was coated correctly, but as far as rubber sealants go it's one of the better value products.
However, shopping from the Rubberseal range can be confusing and customers didn't know exactly which product to pick to seal their roof.
This specific coating product is their standard, but you can also choose a thick option and an extra-strength option.
It would have been better to just create one that's thick and strong without making them add-ones that cost more, but if you're looking for overall performance this one is the best.
Another downside is it felt a little porous and some users noted that it picked up dirt and debris.
When compared to their roof before the application of Liquid Rubber, people said it was harder to keep clean, so this is something to be mindful of.
It might do a good job protecting but you'll have to put in more effort when it comes time to scrub the roof, which could be a dealbreaker.
Rubberseal's Liquid Rubber is a great choice for RV and trailer roofs and will deliver more than just UV protection.
Amazon has it listed online for the best deal and there are options to buy it in two or five-gallon buckets to save even more.
Shopping on Amazon will also get you free postage and returns, so there's no need to worry when you invest in Rubberseal's Liquid Rubber to give your RV a new lease on life.
Alternative: Dicor Fiberglass Roof Coating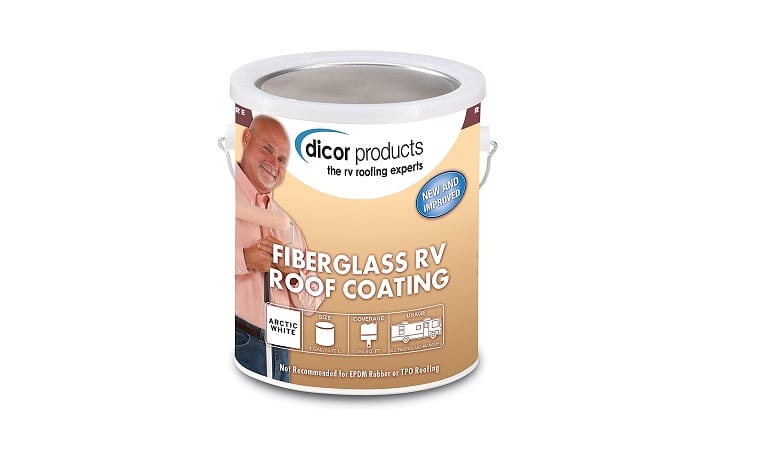 Material: Fiberglass
Size: 1 gallon
When your RV has a fiberglass rooftop it requires a specialist approach, and the only brand to trust is Dicor.
Dicor's Fiberglass Roof Coating is a budget-friendly way to get the job done, it comes in a 1 gallon container, and has enough product to cover 350 square feet of RV rooftop.
This coating is made specifically for fiberglass roofs and is a 100% acrylic resin and comes in an arctic white color to suit most vehicles.
According to their happy customers, people loved how smoothly the product went on and how professional the final product looked.
Rather than spending thousands of dollars having your fiberglass roof replaced, you should give this coating from Dicor a go and bring it back to life for a lot less.
The results are instantaneous and customers found they could feel a noticeable difference in the levels of heat inside of their RV once the job was done.
Another great bonus of using this product is how it works in warmer conditions and will be able to expand and contract with the fiberglass roof of your RV.
While it's best to keep it parked undercover as much as possible, just knowing you have a protective layer on top of your pride and joy gives you great peace of mind, and it's achievable in less than a day when you apply this roof coating.
However, you'll need a few coats to make this work as well as a rubber roof product, and although Dicor recommends applying two, you'll want to do a lot more.
Some customers noted that they applied up to four coats or as many as they could by using all of the product that was provided. Be prepared to put in the extra work with this as well as the time spent preparing the roof for the job.
On top of this, the product doesn't seem to last as long as a rubber roof coating, with people noticing issues after a couple of years.
Considering you're applying this to act as a UV protectant and cover up any seals and cracks that the roof has, it's not a product you want to fail after a short time.
To make up for this, applying as many coats as possible is recommended, as mentioned earlier.
Dicor's Fiberglass Roof Coating is the only way to go if you're treating a fiberglass RV roof, and you can find it online at Amazon for the lowest price.
Shopping with Amazon also means free returns and free shipping, but unfortunately, there's no option there to buy in bulk and save which is a bit of shame.
When it comes to fiberglass though, this coating from Dicor will bring your roof back into shape, and protect from all of the external elements that attempt to damage it.
Alternative: LR Liquid Rubber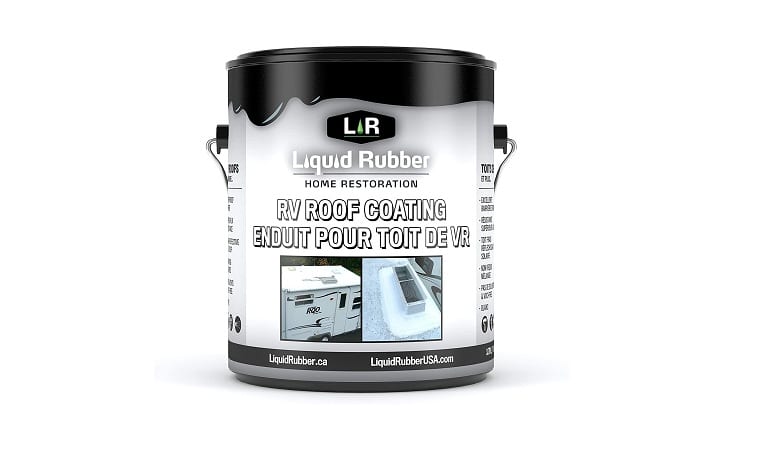 Material: Rubber
Size: 1 gallon
LR Liquid Rubber is a household name for those with rubber RV roofs and it comes with a stack of environmental benefits as well.
This liquid rubber comes in either a one or five-gallon pail with a resealable lid, is solar reflective, UV resistant, and provides 1000% elongation in the final product.
To get the best results, LR recommends applying two to three coats so you can make the most of the waterproof membrane that gets built up.
One of the coolest things about this product is its versatility, so you can use it for just about any job around the home once you're done coating your RV.
LR Liquid Rubber can act as a protective sealant for sheds, planter boxes, wood, concrete, flat roofs, metal roofs, and rubber roofs, so it's one of the most comprehensive products around.
Another bonus to use this is knowing that you're safe, which is especially helpful for those who travel with families in their RV. LR Liquid Rubber is water-based and doesn't emit any harmful odors.
You'll find no VOCs and no solvents in it either, and it's safe for humans and animals. It's applied with a paintbrush so there's no need to touch a thing, but knowing that it can't do you any harm if you did is great for your peace of mind.
This is one of the most expensive options we've reviewed, so you have to be sure you're happy to pay for the extras it offers.
You'll need around a five-gallon pail to cover a standard RV and although they recommend one gallon per 50 square feet, it's a lot more than this. In the end, you can expect to pay a few hundred dollars to get the whole job done, including materials.
Customers weren't too happy with how long it took to set and dry either, and in some cases, it felt sticky for the rest of the day.
Considering you need to do multiple coats to get the job done right, you'll want to set aside quite a bit of time if you're using LR's Liquid Rubber.
Make sure you're doing it in the morning as well, as the product doesn't handle the heat very well when it's still in liquid form, so plan accordingly.
LR's Liquid Rubber is a popular choice for those who want a premium product but it'll cost more than most. To get the best deal, head to Amazon to see their prices, and benefit from their free shipping and returns as well.
You can save a lot more if you purchase the five-gallon pail but make sure you calculate what's needed to cover your RV, otherwise you could have a whole lot left over.
RV Roof Coating FAQs
Choosing the right roof coating for your RV can make a world of difference and will ensure it stays protected for years to come.
To ensure you're getting the perfect fit for your vehicle, we've got answers to a few FAQs that can give you a push in the right direction towards the right type of coating.
How Much Does It Cost To Recoat An RV Roof?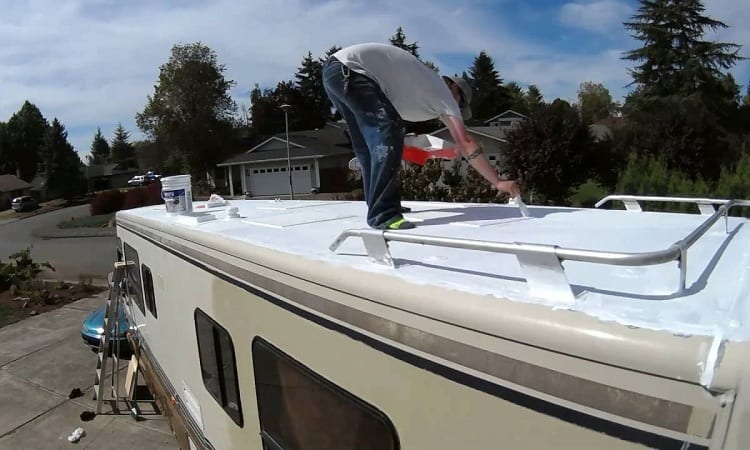 The cost to recoat an RV roof depends on the methods and materials you're using as well as the size of the roof, with options for DIY and professional available.
To apply a rubber roof coating yourself, you'll need around one to two gallons per coat, which will cost between $150 to $200 plus basic materials.
For a professional recoating, you can expect to pay upwards of $2,500 for the job to be done.
How Often Should You Coat Your RV Roof?
A full professional recoat of your RV roof should be done every 10 years but if you're painting with aroof coating yourself, every few years is ideal.
This depends on how often you take your RV out, where it's stored, and the weather conditions you travel in, as you may have to do it more frequently to meet these factors.
What Is The Best Way To Seal A RV Roof?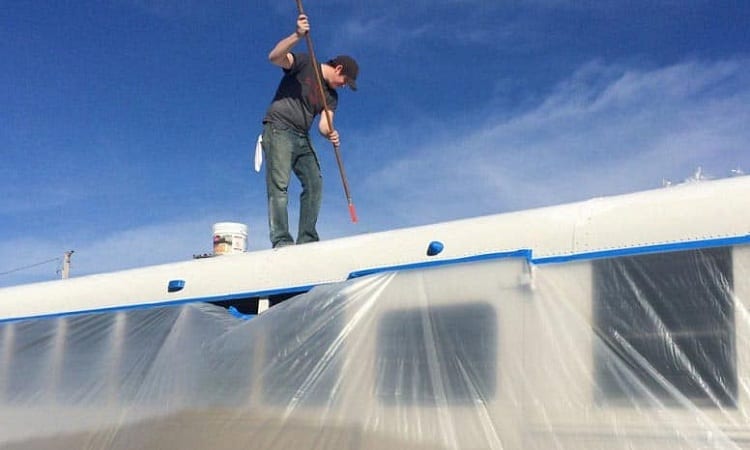 An RV roof should be inspected once a year to check for cracks, splits, and other signs of damage. You can apply a self-leveling sealant to cover these minor cracks and the edge of the RV's roof using a standard caulk gun.
Follow this up with a full coating of lap sealant to the roof of the RV to protect it from further damage.
How Do You Clean An RV Roof Before Sealing?
Use a specialized cleaning product and a medium bristle brush or mop to clean the top of your RV's roof, working in small sections and being sure to rinse as you go.
Once it's thoroughly dried and you've inspected it for signs of damage, you can start with the first layer of sealant or coating.
Protect Your RV From the Roof Down
As our traveling homes, RVs are exposed to a lot of extreme weather, water, and sunlight, so we need to keep them protected from the top down.
With our choices for the best roof coatings, you'll do just that, and keep your RV in the best condition possible, no matter the conditions outside.
Resources:
---