Living on the road and out of your RV may sound like a dream come true, but when you run out of battery power and have to give up the luxuries, it can be anything but.
A reliable house battery is essential for a 12V system in an RV and having one you can depend on is worth its weight in gold.
What are the best RV battery choices out there?
An RV battery that's used to run the appliances inside of the vehicle and supply 12 volts of power to it is commonly referred to as a house battery, and it needs to be a deep cycle with a good amp-hours rating.
This means it has enough to run whatever you're using in the RV and deliver this steady power consistently over a longer period.
With that in mind, we've compiled a guide that can help you choose the best RV deep cycle battery for your motorhome, and with reliability and quality you can depend on.
With this one item ticked off your list, your must-have appliances will be ready to roll and you'll have a much more comfortable adventure wherever you park.
Best RV Battery – Reviews & Buying guide for 2021
Our Recommendations for the Best RV Battery
A reliable 12-volt battery system is one of the first things you should tick off your RV list, as without it, you won't enjoy life on the road very much.
With that in mind, we've narrowed down some of the best RV house battery options out there and everything they have to offer your on-road adventure.
BEST OVERALL: WindyNation 12V Battery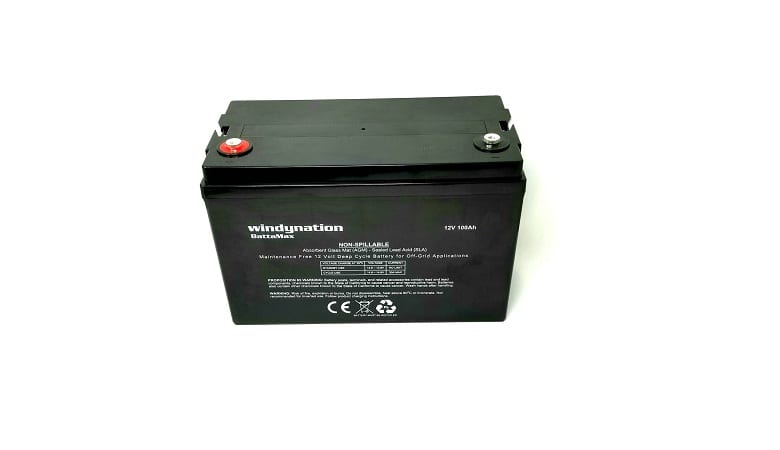 Weight: 66lbs
Voltage: 12V
Compatible Devices: Solar, Remote
The best battery for RV use has to be the 12-volt BattaMaxoption from WindyNation, ticking all of the boxes of what a house battery needs.
With a 100 amp-hour rating and deep cycle AGM sealed lead acid construction, it's durable and reliable, which makes it ideal for use within an RV.
The battery pack measures 13 x 6.8 x 8.7 inches and weighs around 66lbs so it's one of the heftier options on the market.
What customers loved most about the Battamax is its use of 99.995% pure virgin lead, which is hard to come across in comparable brands.
This means the battery keeps a low discharge rate but high levels of power storage, so you're left with a longer-lasting device.
Other batteries use recycled lead which can shorten their lifespan, so if you're looking to make an investment and want one that'll last, the WindyNation is a great choice.
According to reviewers, the WindyNationBattamaxoption was the best 12 volt RV battery for a solar setup, which is good news if you're someone who likes to rely on renewable energy.
It was easy enough to top up each day, provided the weather conditions were good and you have the right gear, and with careful use, it provided plenty of power for all of their appliances.
Overall, it's a versatile battery you can use with any off-grid power supply and is considered the best RV battery for boondocking and dry camping thanks to its heavy-duty plates that allow for deep, repetitive discharges.
On the downside though, this is a hefty battery, and although they've included some carrying straps with it, it's still noticeable.
Compared to others it's around double the size at 66lbs and if you want to travel light or plan on using it in other applications like camping, it won't do.
This isn't the best deep cycle RV battery if you have portability in mind, so keep that in mind.
Another negative to note about the Battamax option is the experience some people have had with the warranty coverage on their battery if they happened to get a faulty one.
Customers have mentioned having to work particularly hard with WindyNation to rectify issues, so this is something to be aware of.
WindyNation has provided the best deep cycle RV battery on the market with its 12V Battamax and one that's within everyone's price range.
It comes with a one-year limited manufacturer's warranty and ongoing customer service if you need it, and if you shop online at Amazon you'll also get it shipped for free.
If reliability is your main goal when buying an RV battery, the Battamax won't let you down
Runner Up: Universal Power Group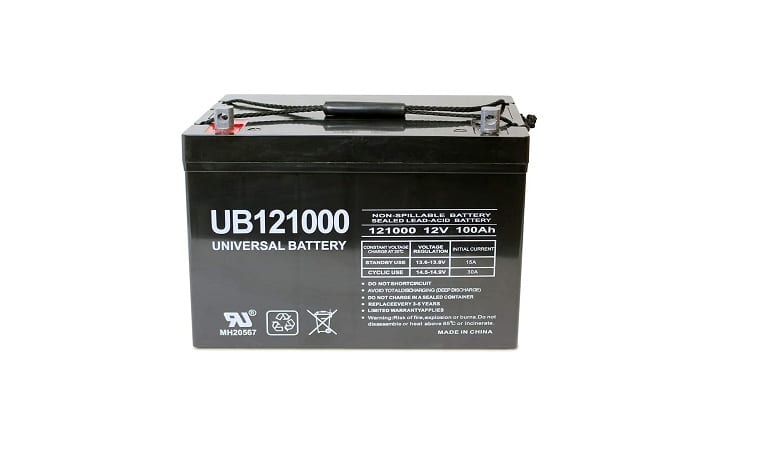 Weight: 64lbs
Voltage: 12V
Compatible Devices: Solar
Universal Power Group has delivered the goods with their 12V universal battery that would be a perfect fit for any RV owner.
This battery measures 12.17 x 6.61 x 9.16 inches and weighs almost 64lbs, making it one of the heavier options, and has a 100Amp hour rating so you can make use of all the necessities while in your RV.
This is an SLM AGM battery that comes with carrying handles and can easily connect to solar systems and other setups you want to use.
Because this battery is AGM, it means no maintenance, so this is a bonus if you don't want to spend a lot of time worrying about it in the future.
Another added benefit of this is that it's spill-proof which is a godsend for people who want the best RV battery for dry camping, boondocking, and going off the grid as it can take some rough and tumble without spilling any hazardous chemicals.
Another thing that customers loved about this battery was its durability thanks to the heavy casing and its resistance against shocks and vibrations.
These are all too common when driving an RV and camping off the grid, so having that extra protection in place makes a world of difference.
The longevity of these batteries surprised some people, and in a good way, with a 100Amp hour rating and the ability to keep you powered up all day long with the right management system in place.
If you want the best deep cycle battery for RV use that can provide longer periods of power, the Universal Power Group is one to watch.
On the downside though, some people had issues with the battery holding its voltage after a few months of regular use, but even though it wasn't a common complaint it's still not something you want to deal with.
Although they were able to replace it and use the warranty coverage that Universal Power Group provided, there were also some problems accessing customer support, and all of this lost the battery some points.
The battery is heavy and isn't the easiest to maneuver, so you don't want to use it in a setup where portability is required.
Other lighter options are better suited to this type of power system so make sure you're shopping for your specific needs if this sounds likes you.
If you're looking for a tough battery that never seems to give up, the Universal Power Group's 12V Deep Cycle AGM is one of our favorites.
It's well priced when you shop through Amazon, comes with free postage to your door, and a 12-month manufacturer's warranty, so it brings a lot more to the table than reliability.
Alternative: Optima Blue Top Battery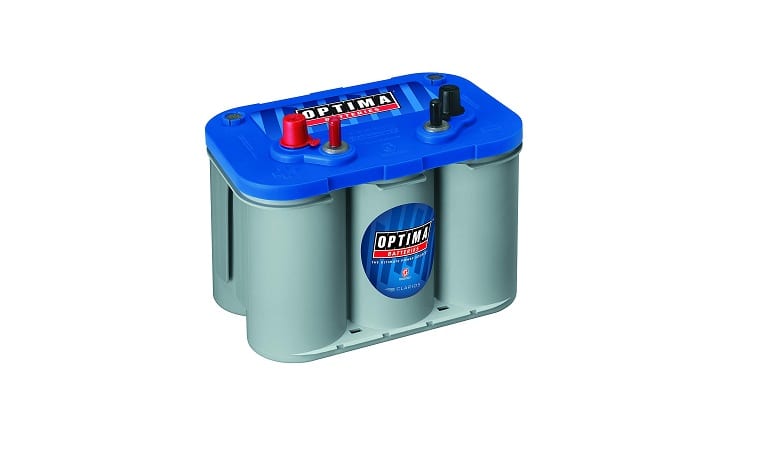 Weight: 43.5lbs
Voltage: 12V
Compatible Devices: Marine
When you want a versatile power source but also the best AGM battery for RV use, a choice like Optima's Blue Top will be right up your alley.
This is both a deep cycle and starting battery so it's great for any way you want to use it in your RV, comes with 750 cold cranking Amps, and is 12-volt to suit most off-grid setups.
The battery pack weighs around 43lbs and measures 10 x 6.88 x 7.8 inches so even though it's roughly the same size, it's a lot lighter in weight which customers loved.
This is a huge bonus for people who want portability from an RV battery and makes it easier to set up and connect, which adds even further to its versatility as an RV or boat battery.
Another bonus of the Blue Top Battery is that it works in more kinds of weather and even extreme conditions.
Anyone who goes camping or takes their RV out regularly knows the importance of being able to power up when the weather turns bad and having a reliable supply like this can be a gamechanger.
The Optima Blue Top can hold its charge for a long time and if you don't plan on charging up each night, this will be a huge bonus.
Many reviews complimented the battery on how long it held for and if you don't have the luxury of connecting to solar or recharging it each day, this is a crucial feature for a battery to have.
On the downside, some customers reported issues with the battery not charging fully right out of the box.
They recommended doing some testing when yours arrives and then getting in touch with Optima's customer service in case you need a replacement.
A little bit of foresight goes a long way, especially if you're relying on this battery to power you up when you're off-grid.
Another issue was that people noticed cracking in the plastic on top of their batteries which lead to questions about durability.
Although ranked as one of the tougher batteries and even rated as 15 times more resistant to vibration than the competition, the last thing you want to see what a cracked cover on your RV's house battery.
The Optima Blue Top Battery is relatively lightweight and a versatile choice for those wanting more than just an RV battery.
Amazon has it for sale at the lowest online price and they offer free shipping as well, with the 12-month manufacturer's warranty from Optima included.
If you're looking for an affordable power supply to take in your RV, this one from Optima provides consistent performance in any condition.
Alternative: Interstate Deep Cycle Battery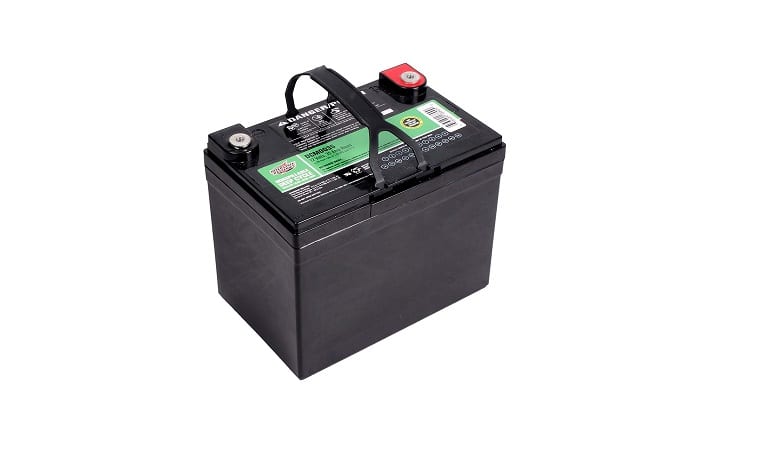 Weight: 22.8lbs
Voltage: 12V
Compatible Devices: Replacement battery, Marine, Solar
If you're looking for a good backup RV battery and don't want to spend a fortune, the Interstate Deep Cycle 12V is a great choice.
This AGM and VRLA battery is spill-proof and maintenance-free, and designed for use as a replacement battery as well as a rechargeable house battery, and provides 35Ah of power for low-grade energy needs.
The Interstate Deep Cycle Battery is small but durable and it's spill-resistant and prevents overpressure.
As it's rated highly for heavy demand you'll find it works a treat as your RV house battery and even repeated and intense use of it won't do any damage, which is ideal for off-grid use.
The battery measures 7.68 x 5.16 x 6.42 inches so it's smaller than most, and it weighs just under 23lbs for easy carrying.
As this is predominantly used as a replacement battery it's pretty compact but if you want something to take camping or for off-grid applications where your power needs are minimal, you'll love its smaller size.
Even though this is a cheaper and less powerful battery, it's one of the more versatile options out there.
According to Interstate and their happy customers, this can be connected to solar setups, RVs, marine equipment, wheelchairs, electric scooters, and more.
You'll get a whole lot of use out of it without having to spend a fortune and it's not just limited to powering up an RV.
As far as power goes, this battery only provides 35 Ah, so it's not the most intense when you stack it up against the rest that offers 100 Ah and might not be right for everyone.
If you only have minimal needs or plan on purchasing a few of them and connecting them together, it'll do fine, but otherwise, you should spend a little more to get something more powerful.
Another potential negative is the carrying strap which some people found flimsy or even partially broken when it arrived.
The battery itself isn't that heavy and it doesn't affect how it works but when you pay for something and expect it to have a working strap, finding this to be faulty is a huge letdown.
Some also noted that after regular use there was a crack developing on the plastic cover, and if this happens to you, you should return it immediately for a replacement battery.
Interstate offers a 12 month warranty on this and the rest of their batteries, and when you buy online at Amazon you'll also get free postage.
This is one of the cheapest RV batteries we've reviewed, but also the least powerful, but if you only have minimal needs you won't mind what it offers.
Alternative: Optima Yellow Top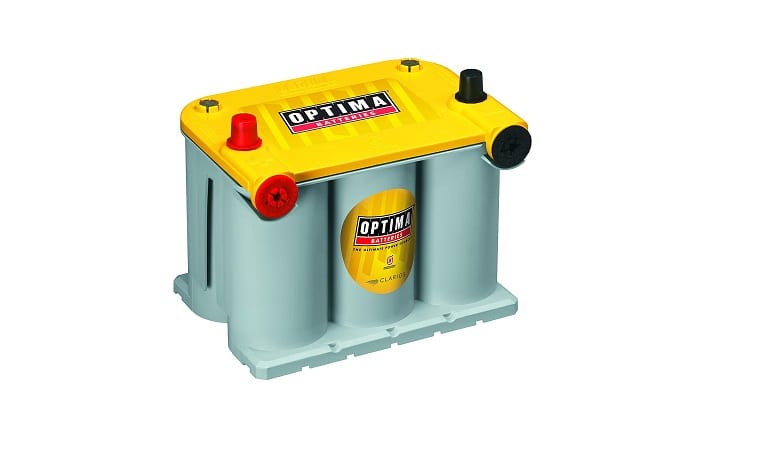 Weight: 37.8lbs
Voltage: 12V
Compatible Devices: Solar
Optima is no stranger to RV batteries and if you want something with enough performance for your next adventure, their Yellow Top 12V is a powerful choice.
This is a dual-purpose AGM battery that provides deep cycling and cranking capabilities, features a SpiralCell design, and has a maintenance-free construction for your ease of use.
The measurements of the Yellow Top are 9.32 x 6.8 x 7.62 inches so it's pretty big, but weighs just 37.8lbs for your convenience.
One huge bonus that comes with this battery is its low self-discharge rate which customers found invaluable for use within their RV.
Storing away your vehicle for the winter normally means having to recharge again when you're ready to hit the road but the Yellow Top Battery from Optima takes care of it for you.
The SpiralCell design that Optima used to make these batteries ensure their health and provide you with a clean power source.
There's no need to worry about doing any damage to your electronics or appliances and you'll feel peace of mind with this powering up your RV with your family around because of its safety rating.
A big advantage that the Yellow Top from Optima offers is its impressive 98 minutes of reserve capacity at 25Amps which is better than others we've reviewed.
This means you always have something to rely on, which can be a godsend when you're traveling in your RV and unsure about where your next power hit will come from.
There were some drawbacks though, including the higher price tag, and with that, the assumption that some things would be better quality.
The packaging of the item is inferior and it meant that during shipping, it was more prone to damage. You'll want to check what it's operating at when you get it, otherwise, you could get burned when you're out on the road and relying on it to deliver.
Although there's an impressive warranty of 36 months with this battery, some people found it was rather hard to get their batteries replaced if they needed to.
With this in mind, you'd hope that there are no issues with the one you get, or you'll be stuck in the same boat as these annoyed customers.
The Optima Yellow Top Battery is ideal for RV owners with average power needs, but it's a durable and powerful contender for sure.
Amazon has it available at their online marketplace for the best price and they'll ship it for free to wherever you are in the states as a nice little bonus. If you want a reliable and well-reserved power source for your RV, Optima is a brand you can trust.
RV Battery FAQs
Learning the basics of RV batteries can take some time but it's key information that any RV owner should know.
To help you out, we've answered some FAQs about how these batteries work and how to make sure you're choosing the right one to suit the plans you have for your RV.
How Long Should RV Batteries Last?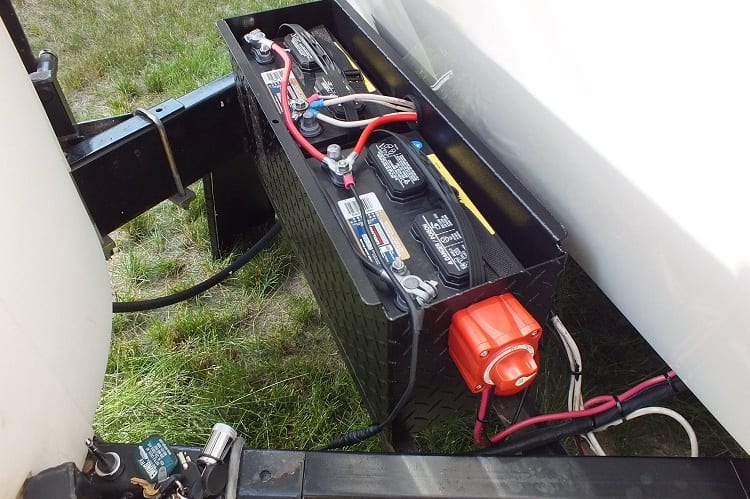 A quality RV battery that's been looked after and maintained can easily last for six years and even more in some cases.
Deep cycle batteries are built to last like this but only with correct use and ongoing maintenance, so there's no need to replace your RV's house battery every couple of years unless it's been damaged.
Are AGM Batteries Better For RV?
An AGM battery is one that uses an 'absorbed glass mat' to seal it so that no liquid acid will be spilled if the battery is moved or tipped over and they're generally maintenance free.
This makes them a good choice for RVs although slightly more expensive so you'll need to spend extra for the returns.
Should You Leave Your RV Plugged In All The Time?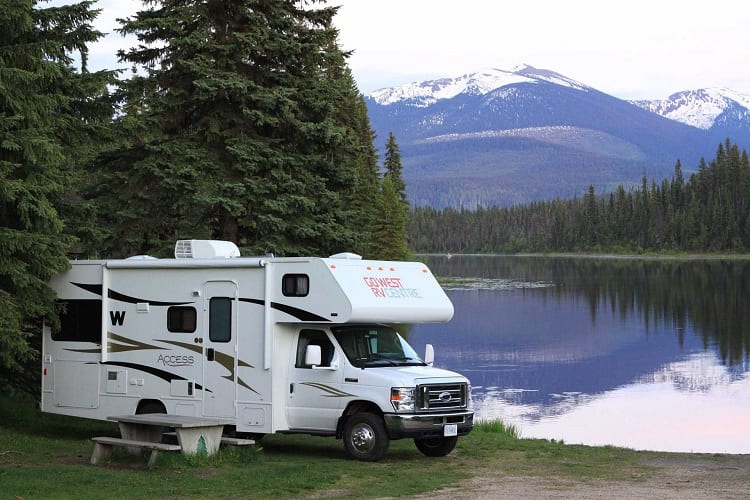 When your RV is parked somewhere for the night or even weeks at a time, it's okay to leave it plugged into an electricity source, and doing so offers many benefits.
However, during storage when it's not in use, you shouldn't have your vehicle plugged in as it can cause the batteries to overcharge and will damage them.
Does RV Battery Charge Driving?
With the right setup, an RV's house battery can be trickle charged while driving on the road so it's an easy way to keep powered up and ensure you have a full battery again when you arrive at your next stop.
To do this, you can use a battery-to-battery charging system or another type of connection that sends power to it while the engine is running.
The Essential Item for 12V Power
A quality battery goes hand in hand with a recreational vehicle, no matter what you drive or how you like to use it.
With our top picks, you'll be able to choose the perfect RV battery to suit your needs, and one with enough reliability and dependability to get you through years of adventures.
Resources:
---