Nothing divides campers faster than the argument over whether or not a generator is needed in the great outdoors.
For those of us who take their RV on adventures though, a generator is a necessity whether it's built into your vehicle or a portable backup, and there's no good reason not to have this power supply ready for action should you ever need it.
What is the best RV generator though?
An RV-ready generator should be large enough to meet your power needs, so you'll need an idea of the wattage you'd require from it to run your necessities.
Secondly, it should be the right size, be suitable for storage onboard, come from a reputable brand, and be in your price range, so all of these factors have to be weighed up independently.
To help you source this invaluable accessory, we've compiled a handy buying guide that will show you what's what.
We've selected a few top performers in RV ready generators and presented their best and worst features so you can choose the perfect fit for your backup power plan.
The Best Generator For RV Power – Reviews & Buying guide for 2021
Our Recommendations for the Best RV Generator
When you're looking for the best small generator for RV use or something mighty and powerful, we've got you covered.
These are our picks for the best generators you should have in your RV and what makes them such top performers.
BEST OVERALL: Champion Dual Fuel Generator
Wattage: 3400
Fuel Type: Gasoline, Propane
Weight: 95.7lbs
Our top pick and the best portable generator for RV camping has to be the Champion Dual Fuel Generator. This powerful device runs on either gasoline or propane and a convenient electric start.
The Champion Generator weighs a hefty 95.7lbs and measures 25.1 x 17.3 x 18.3 inches so it's not exactly compact, but will provide you with 3400 watts of portable power for all of your RV needs.
The efficiency of this generator is what sets it apart from the rest and reviewers loved that it stayed strong and steady for up to 7.5 hours running time when powered up with gasoline.
It's RV ready straight out of the box and features two 120V 20A household outlets that provide clean electricity as well a 120V 30A RV and 12V DC outlet, ticking all of the boxes for what a camper needs.
Although powerful, customers were pleasantly surprised to find that this generator is super quiet. It runs at a volume level of 59 dBA so you won't annoy any other campers or disturb yourself while you're trying to relax.
The quick touch panel gives you access to an electric start as well, so it's not just quiet during running but also while it's getting powered up.
One letdown of this unit is its size, and if you're trying to travel light or choose a generator that's easy to store away, it might not be for you.
When you compare the wattage provided to the 95.7lbs weight, it seems a little on the heavy side, so this could be a dealbreaker for some campers.
Furthermore, you'll need three feet on either side of it for safety clearance so it requires quite a lot of space to operate once it's outside and powered up.
Although marketed as a dual fuel generator, some customers noted issues with starting certain things when using propane.
There's an additional part you can purchase which is a hard start capacitor and when this is in use, you won't have an issue.
However, you don't want to be sourcing extra attachments when you've already paid so much for a generator, so it was a bit of a disappointment.
All in all, the Champion Dual Fuel Generator is our favorite and the best in quietness and power.
You can get your hands on this powerful advice through Amazon, and not only will you get the best online price but it'll be shipped to your door for free.
Champion covers this generator with an impressive three year limited warranty and ongoing customer service, so it's a brand you can rely on for your RV's backup power.
Runner Up: WEN Portable Inverter Generator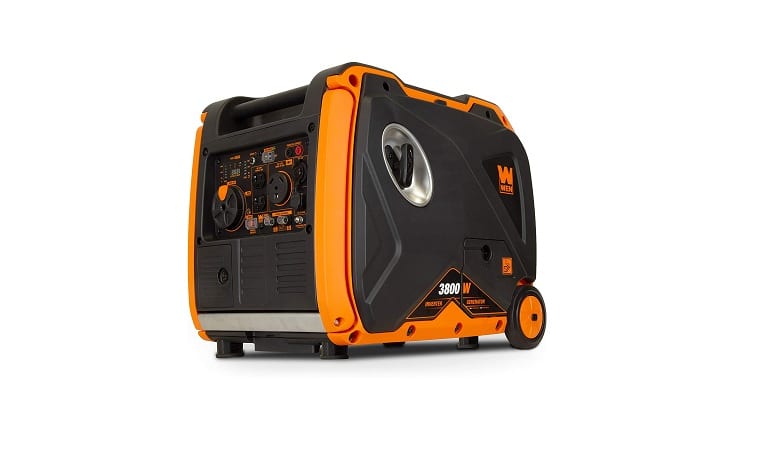 Wattage: 3800
Fuel Type: Gasoline
Weight: 99.2lbs
If you're shopping for the best inverter generator for RV use and don't have a lot of cash to spend, the WEN Portable Inverter Generator is a fan favorite.
With 3800W of start-up power and a size of 23.2 x 18 x 20.1 inches, it's perfect for RV camping and is both EPA III and CARB compliant so you don't have to feel guilty putting it to good use.
The generator produces clean power and features two 120V outlets, a 12V DC outlet, a 5V USB port, and an AC 120V NEMA TT-30R RV receptacle for all of your needs.
The best thing about this generator, aside from its lower price, is that it has a decent running time.
According to WEN, it has a half-load run time of 8.5 hours which is pretty impressive and means you'll get more use out of it before it's time to fill it back up again.
The fuel shutoff feature lets you get even more from it because it uses the leftover fuel in the carburetor before finally shutting down.
Another great benefit of the WEN Inverter Generator is its power potential. This generator produces 3800 surge watts and then runs with 3400 watts so you'll be able to keep all of your important electronics and appliances online.
Even though it's one of the cheaper options, they haven't skimped on this feature which is great to see. It's not the best generator for RV air conditioners or other heavy surge appliances but it'll certainly keep the important stuff running.
Unfortunately, though, The WEN Portable Inverter Generator is another heavy model and it's pretty big when you compare it against the others we've reviewed.
Carrying it on your own may be an issue for some campers and you'll have to be careful while you get it out and set it up. For a portable device it's not that portable, so make sure you've got room in your RV to keep it stored away.
Another negative worth mentioning is the noise, which some customers were surprised at. You can turn it onto Eco mode and run with less power which helps bring the noise down, but it's not one of the quietest out there.
This is thanks to the 212cc 4-stroke engine that produces its power, so while you need the electricity you can get from it, something a little quieter would have been good.
Overall, the WEN Portable Inverter Generator is one of the cheapest finds and with enough power to keep your RV up and running.
WEN covers it with a two year warranty, which isn't as much as some we've reviewed but still good for a budget pick, and you'll get it shipped for free when you shop online at Amazon.
If you want maximum power for minimum cost, the WEN Portable Inverter Generator is a great fit.
Alternative: WEN 56200i Generator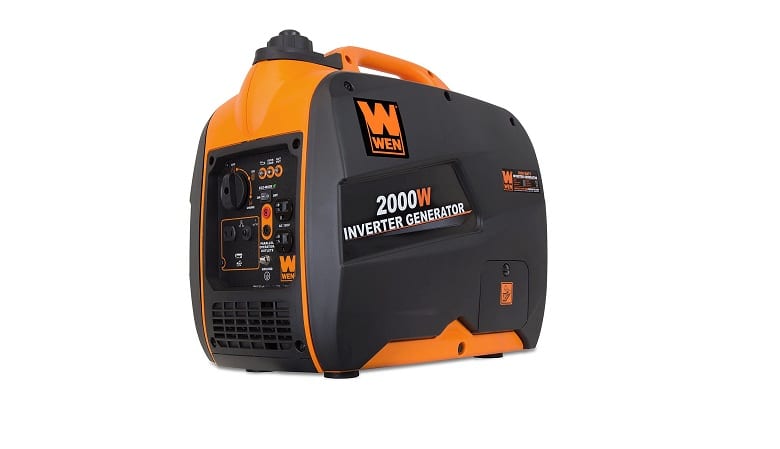 Wattage: 2000 watts
Fuel Type: Gasoline
Weight: 48lbs
When your backup power needs are only minimal, you don't want to lug a huge generator around, and WEN has the answer with their 56200i model.
This portable generator produces 2000 watts of startup power with 1600 watts of running power, weighs a minimal 48lbs, and features a range of outlets like 12V DC and 120V receptacles, making it the perfect fit for an RV camper.
According to customers, the best feature of this generator was its size, with a compact body and a convenient carrying handle.
You don't need to overload your RV or find a lot of space when it's time to set it up, nor will you struggle to carry it.
It weighs just 48lsb which is easy enough for anyone to carry and measures 18 x 11 x 18 inches so although a little tall, it's not wide and bulky.
For a cheaper model of generator, there's still a lot of extras to brag about, and customers loved that it was EPA III and CARB compliant.
The 79.7cc 4-stroke engine will provide you with all of the power you need without harming the environment, and it's a totally clean power source that you can plug electronics right into without a worry.
However, people weren't thrilled with the noise output, and although WEN claims it runs at 43 Db, others would like to differ.
This may be true if it's running on quarter power but considering it's already a lower wattage to start with, you won't get much powered up in your RV on this setting unless you like to live very simply.
Otherwise, expect the WEN to be quite noisy while it's keeping you powered up.
Power wise, it's not that impressive and although it's labeled as 2000 watts it will only provide 1600 watts of running power so it's not the best generator for 50 Amp RV users.
This means you'll be able to use basic electronics, and if you plan on running it on Eco mode, even less.
This is only a good pick if you're someone who wants backup power or plans on using the bare minimum, otherwise, you'll need to upgrade to something with at least double the power and for double the price.
The WEN 56200i is great for campers with smaller power needs and it's a smart choice if you want backup power for emergencies.
It's reasonably priced for a more compact generator and comes with a two-year limited warranty and ongoing customer service from a network of service technicians that work around the country.
For peace of mind, WEN is a brand you can trust, and if you only want basic power production, it's one of our favorites.
Alternative: WEN 56235i Generator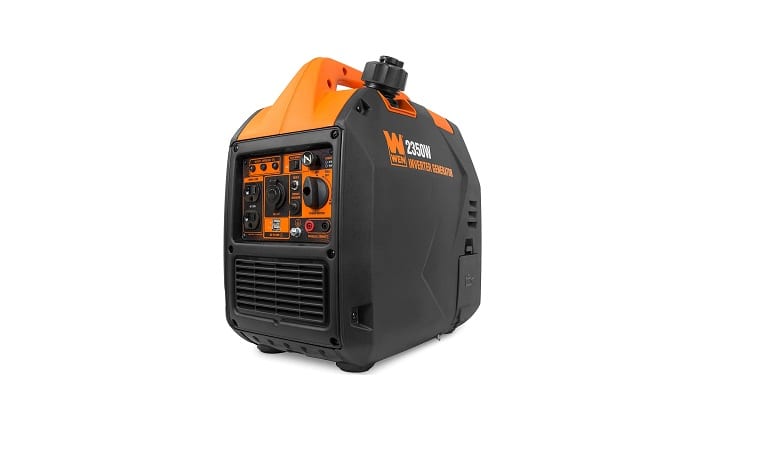 Wattage: 2350
Fuel Type: Gasoline
Weight: 39lbs
Another entry from WEN has proven that the brand knows a thing or two about generators and if you're looking for something mid-range in price and power production, the 56235i is the way to go.
This generator has a rating of 2350 surge watts and 1900 rated watts which is effective for most RV campers, and it does it all with a small 39lb body, which is one of the lightest they've ever made.
The size is a major selling point of this generator and even though it's capable of delivering more at 1900 rated watts, it still only weighs 39lbs.
When you stack this up against other generators it falls way below and makes it one of the only truly portable models out there. You could easily take this hiking or camping without a bother if you ever wanted to step away from your RV for a while.
Another feature that customers loved was the range of outlets available to provide you with clean power on the go. Included on this generator's panel are two three-prong 120V outlets, a 12V DC outlet, and two 5V USB ports.
You'll be able to plug whatever it is you want to run directly into the WEN 56235i and because it limits the total harmonic distortion to less than 1.2%, the power is totally clean.
The noise output let WEN down again and it only appears to be quiet enough to be bearable when running at quarter power output. Doing this means you'll significantly reduce the type and number of electronics and appliances you use.
You'll need to weigh up whether you want to use power quietly or use it effectively and let that be the decider because you can't have both when you're running the WEN 56235i.
Customers were disappointed that it took some time to break in this generator and get it running smoothly, so don't expect top-notch performance on your first try.
Some people had to purchase a magnetic drain plug to prevent their fingers from getting burned and others a spark plug, which can add to the final cost.
If you're planning on taking it as a backup generator, you'll want to play around it with it at home before you head off, otherwise, you could be dealing with these issues in the middle of nowhere with no other power source for your RV.
If you only need a compact generator but still want a bit of power behind you, the WEN 56235i is a great option.
This generator comes with a two-year limited warranty from the manufacturer and when you purchase it through Amazon, you'll receive free shipping.
WEN has proven that they know how to make efficient and reliable inverter generators that are perfect for the needs of RV owners, and this model is no exception.
Alternative: Westinghouse iGen4500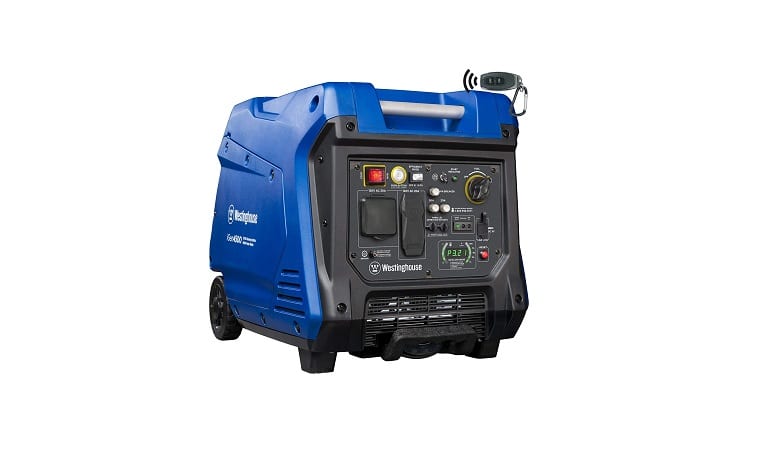 Wattage: 4500
Fuel Type: Gasoline
Weight: 93lbs
Westinghouse is a huge name in the world of appliances and their electric start iGen4500 is one of our most powerful recommendations.
This is a serious generator that runs with 4500 peak watts and 3700 rated watts, making it the most powerful we've reviewed, and it features everything you need for clean RV power including a 5-20R 120V duplex household outlet and RV-ready Tt-30R 30 Amp outlet for your convenience.
The best feature of this generator is its efficiency and power. When running on Eco Mode, the Westinghouse iGen4500 can keep your RV running for a whopping 18 hours which is far beyond what the competition can achieve.
You'll be able to rest easy knowing it's got everything covered and it offers some of the best fuel efficiency around from its 3.4-gallon gas tank. Better still, it does this quietly and runs at around 58Db on full power which is quiet enough to talk next to.
Another cool feature is its digital display that lets you keep an eye on how everything is running which is hugely important when you're working with a generator of this size.
The LED data center shows you things like fuel level, remaining running time, and voltage output so there's no need to second guess.
You won't run the risk of losing power all of a sudden and without warning when you have this Westinghouse which is a huge bonus for RV campers.
On the downside, it's an expensive option and only needed by those who have serious power needs.
You can probably get something a lot cheaper that will get the job done especially if you plan on using solar power or camping near a powered site.
The size of the unit is also negative and it weighs around 93lbs without any of the fuel or oil in it, so it's pretty heavy.
Customers didn't find the support from Westinghouse to be very good though, and for people who had issues with their unit or needed advice, it was hard to get.
When you spend this much on a generator and are relying on it for emergency and backup power, you want a brand that knows how to deliver for customers.
Overall, the Westinghouse iGen4500 is a force to be reckoned with and the only backup power you'd ever need for your RV.
This unit is available for the lowest price through Amazon and comes with free shipping to your door which saves a whole lot of money.
Westinghouse offers three years of limited parts, service, and labor coverage with this generator and lifetime technical support, so provided you can get in touch with their team, this is a great guarantee to have.
RV Generator FAQs
Finding the best portable generator for RV camping is made a little easier when you understand why they're required and what they bring to your on-road adventure.
We've answered some commonly asked questions about how these devices work and why they're so important, so check it out if you want to learn more.
How Big Of A Generator Do I Need For My RV?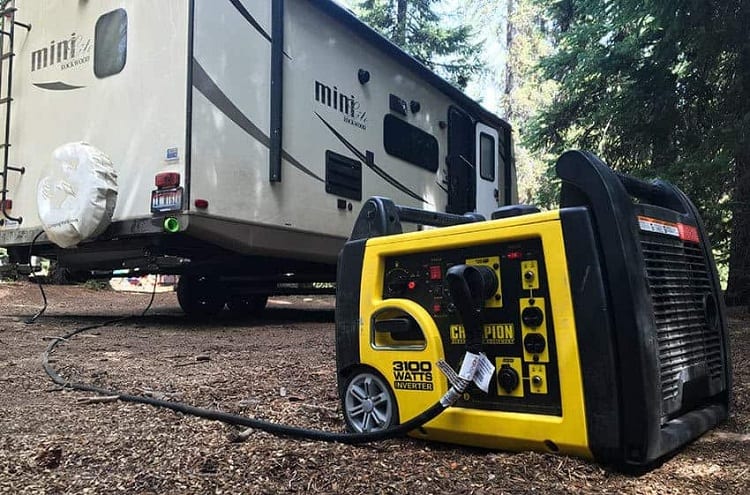 The size of a generator should be measured by the wattage it can provide, as you'll have to ensure it matches your power needs.
To get a basic understanding of the size you need, add up the electricity usage of the key electronics and appliances you want to be able to use, and then find a generator that can provide that much power.
When Should I Use My RV Generator?
A generator has many uses with RV camping including a backup power source, somewhere to directly plug 120V AC electronics, and to store energy in the house battery of the vehicle.
Many RVs have a built-in generator but it's a good idea to have a backup portable one in case of emergencies.
How Many Hours Does An RV Generator Last?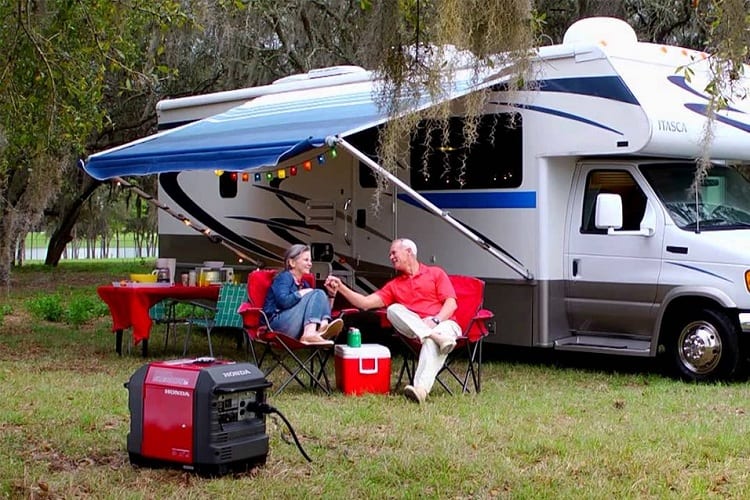 A portable RV generator will have different maximum running times depending on its size and the quality of the device, with these usually ranging between eight and 20 hours.
The generator built into your RV can run for longer periods though, up to a few days at a time, but it needs to be in good condition and have been properly maintained.
Can RV Generator Run While Driving?
A generator that's built into an RV will be able to run while you drive without being a safety concern.
These generators will usually get their power from the same fuel tank that the vehicle's engine used and they can do this simultaneously.
There are features in place that shut the generator off when the tank falls below a certain point to ensure you don't run out of gas.
All the Backup Power You Need
With the best generator for RV camping, you'll never have to worry about running out of power for the essentials.
Being prepared is what RV ownership is all about and this one simple accessory is one of the best ways to do that, so consider adding one of our top picks to your must-have list.
Resources:
---